Screen Time successfully tested on teen who cuts her iPhone usage in half over 3 weeks
7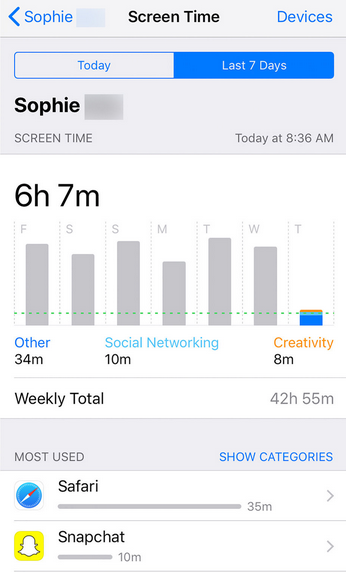 Sophie's Screen Time dashboard during the first week of the experiment
Screen Time, which will debut on iOS 12, keeps track of how long an iPhone user has been using his or her iPhone. It reveals the time spent using certain apps, or using the phone overall on a daily or weekly basis. Time limits can be placed on apps by parents to make sure that their kids (and themselves) don't overdose on social media.
Apple developed the tool after the term "smartphone addiction" was coined
, and the onus was placed on the company to come up with a cure.
Apparently, Sophie's iPhone usage mirrored what you might expect from a teen. Snapchat ranked high, and one day when Sophie had used up her allotted time on that app, she became upset, suffering from Snapchat withdrawal. To stretch out her Snapchat time cap, she realized that there were times when she would stare at the app icons on her home screen to avoid opening the app . She later explained her actions by saying, "It was just a pattern for me, to open my phone, and I would have nowhere to go. I was just looking at a screen. It was kind of weird, so I'm trying not to do that."
Overall, the test was a huge success. Sophie went from using her handset for an average of six hours a day during the first week, to an average of three hours and four minutes a day during the third week. Of course, the results from one person do not provide scientific results. Still, it does give hope to those who fear losing their kids to the mobile devices in their hands.