No Acer smartphones in U.S. until 2010?
2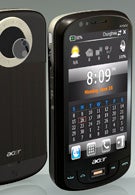 2009 got off to a scorching start for Acer. As we
reported
in the middle of February, the PC manufacturer announced 4 new Windows Mobile powered smartphones at the MWC show. And if that weren't ambitious enough, the company came back the very next day and
showcased four more new handsets
. Now, it is one thing to pull devices out of your..uh...hat, but it is quite another to actually deliver on that promise. According to the guys at Gearlog, they had the opportunity to ask Acer's laptop PR people about the phones. In a scene out of Seinfeld, the Acer people basically said, "Hey, Americans, until 2010, no smartphones for you!"
The interesting thing here is that Acer has already started shipping product overseas. The head of the company's smartphone division,
Aymar de Lencquesaing, not only has plenty of experience in the U.S. market, but he also said in February that he was hoping to have some devices ready for U.S. availability by the holiday season of 2009. The one Acer model that has generated somewhat of a buzz is the Acer F1 which runs on Qualcomm's 1GHz Snapdragon processor and features a 5-megapixel camera, large screen and thick body. Besides a heavy concentration of Windows Mobile handsets, the company has said that it expects to offer some Android powered devices as well. Still want those ingredients, Elaine?

You can check Acer smartphones here

source: Gearlog via PhoneScoop