Nexus 6P and Nexus 5X size comparison versus iPhone 6s, 6s Plus, Note5, S6, Z5, G4, M9, and others
11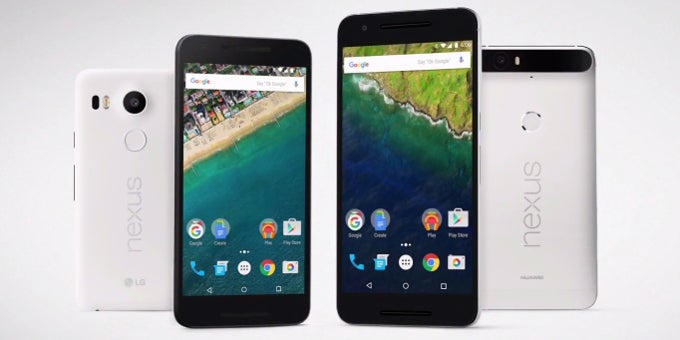 Android fans, your wait is finally over! Google just unveiled its two new Nexus phones - the Huawei-made Nexus 6P and the LG-made Nexus 5X. The two new champs in Google's portfolio will be the ones treating us to the pure Android experience for a host of months to come. The 5.7-inch Nexus 6P, which is the larger of the two, clocks in at 159.4 x 77.8 x 7.3mm and tips the scales at 178gr; this warrants a screen-to-body ratio of 71.77%. Yes, it's rather thin, with only the camera hump at the back ruining the flat looks of the aluminum handset. In case you've been wondering how Google's new phablet stacks up against its notable rivals, just scroll down and you will see it compared with them.
In the meantime, the smaller-sized 5X "munchkin" has dimensions of 147 x 72.6 x 7.9mm, while gently caressing the scales at 136gr, pretty similar to the Nexus 5. In combination with the 5.2-inch display, these dimensions mean that the phone has a screen-to-body size ratio of 63.77%, which is worse than the Nexus 5's screen-to-body ratio of 70.89%.
In case you're wondering how it stacks up against its predecessors of sorts, the aforementioned 2013 Nexus 5, worry not! As we've been curious to put the two side by side, we made a size comparison that gives us a pretty good understanding of how the new Nexus 5X will fare size-wise. Of course, we've also thrown in a couple of more popular devices inside the size comparison, which is our usual practice.