Next Microsoft Surface RT to feature a Snapdragon chip
6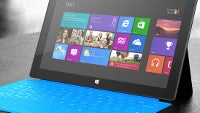 Microsoft is already selling off its Surface RT by the bunch,
discounting it to $199
to educational institutions, but that does not mean the end for the tablet as now Bloomberg says there will be a next Surface RT and it will run on a Qualcomm Snapdragon chip. Bloomberg is definitely a trust-worthy source, but bear in mind that nothing is official just yet.
The news comes just as the
Snapdragon 800 MDP
leaked out showing impressive results, comparing well with Cortex A15 architectures and showing big strengths in the graphical department where the Adreno 330 basically sets a new standard for mobile graphics.
Bloomberg does not specify whether the new Surface RT will indeed use the Snapdragon 800, but that seems like the most likely candidate. The first edition RT that is sold right now runs on an Nvidia Tegra 3.
Interestingly, though, there is a possibility that there will be multiple versions of the next Surface RT tablet and Nvidia might still get to manufacture chips for some of them. Could that mean the Surface RT will arrive at multiple price points as well? That is one uncertain probability.
source:
Bloomberg
Recommended Stories