Microsoft Surface RT Review
40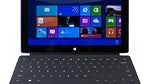 Introduction:
Microsoft, as we know for a long time now, has always had a formidable presence in the computing space. Even now, they still command a sizable piece of the pie, but as we've seen, there is a stark shift in what people are using on a daily basis for their computing needs. A few years ago, everyone seemed intent on riding the wave surrounding netbooks, but as we've witnessed, it was short lived. Ultimately, Apple redefined the entire computing spectrum with the introduction with the iPad – and of course, the rest was history. Continuing to dominate the scene, consumers quickly realized the advantages that tablets have to offer over traditional laptops. And for a while there, Microsoft sat content in pushing forward with its usual computing platform offerings.
Thankfully, they too quickly realized how tablets are increasingly outpacing laptops – as they prove to have that killer combination of pricing and mobility to attract consumers. Interestingly, rather than following the same routine of just solely building its own tablet platform from the ground up, the Redmond based company is relying on itself to produce its own device as well – much like what we've seen with the Xbox and Microsoft Zune (and the Kin phones). Enter the
Microsoft Surface
, a sleek and ultra-modern looking tablet that's gunning to make a charge in the competitive tablet market. More importantly, however, is whether Microsoft is able to soundly capture the embodiment of a highly usable tablet platform with Windows RT. Naturally, there's a lot at stake riding on the back of the Surface – both from a hardware and software perspective.
The package contains:
AC wall charger
Touch Cover (sold separately or as part of a bundle)

Design:
From afar, the Microsoft Surface looks like any other slate out there sporting one cookie cutter industrial design, but once it's in our hands, we soon realize that there was a lot of love placed into it. Indeed, it's not the skinniest (0.37" thin) or most compact tablet out there, but it has all of the required elements to make it an attention grabber against most other things out there on the market. For starters, its tapered edges help to give it a distinctive look of its own – while its magnesium composite chassis, which is a material that Microsoft calls "VaporMg," comfortably adds a sense of strength and durability to its construction. Fortunately, the Surface manages to maintain a clean façade, as it does a good job of repelling dirt and debris from dirtying its uniform looks.
In addition to that, there's a reasonable amount of weight (24 oz/680 grams) to instill in us that it's one solidly made thing. Compared to some of the other venerable tablets on the market, the Surface's design is right up there and in the same league as the
iPad
and
Asus Transformer Infinity Pad
, but we're most humbled that Microsoft is able to distinguish its offering enough to give it a defined look that's attractive in many fronts. Taking into account that it's not too often we find Microsoft helming the design process, we're undeniably impressed that they're able to execute it unequivocally so well with this.

By default, Microsoft has made it so that the Surface is primarily held in landscape, and with that in mind, there's a
capacitive Start button
below the screen, which merely brings us back to the Start Screen. Above the display, we find its 1-megapixel
front facing camera
, which has the ability to shoot HD videos too. Nearby, there's also an LED light that turns on to indicate that the front camera is in use – nothing more than that.
Along the top edge of the tablet, we're presented with its slightly raised & springy power button and two small notches that initially appear as being part of its speakers, but rather, they're actually microphones. As for the speakers themselves, they're located on the upper sections of its left and right trims. To the left, though, we find the volume control and 3.5mm headset jack – while on the right, there's a full sized USB 2.0 port to connect a variety of accessories and peripherals to the Surface, microHDMI port, and its proprietary magnetic power connector. Finally, the sole item spotted in the bottom trim is the proprietary magnetic accessory connector – for the optional touch covers and type covers.
Flush with the surrounding area, the Surface is packing along a 1-megapixel fixed focused
rear camera
, which can shoot videos in up to 800p. Just like before, an LED light sits close by, but it doesn't do anything except to indicate that the rear camera is active.
Not something that's normally seen with tablets, the Microsoft Surface incorporates a very useful
kickstand
that firmly locks into the open position. In fact, it's strong enough to even prop the tablet in portrait – though, its primary function, in addition to giving us a hands-free video watching experience, is to allow us to properly use the tablet along with its optional Touch Cover. Lastly, discretely ticked away under the one side of the kickstand is a very handy microSD card slot.
Display:
Opting for the widescreen format with its display, the 16:9 aspect ratio of the Surface's 10.6-inch screen makes it ideal for watching videos, which is made better with the kickstand in play. However, knowing that it's sporting a less-than-spectacular resolution of 1366 x 768, it's not going to be garnering much attention over the higher resolution displays used by its main rivals. Sure, we're able to read text from a normal distance away with few nagging issues, thanks to Microsoft's ClearType sub-pixel rendering technology, but upon closer inspection, we can actually make out individual pixels.
Although some might not fancy knowing it's boasting a lower contrast level than other displays, it actually makes for a better reading experience thanks to reduced eye fatigue during prolonged viewing. Similar to the iPad 3, the Surface's display emits warmer color tones, which truly shows off its vibrancy when its brightness is cranked all the way to its maximum setting. On top of that, its wide
viewing angles
combined with its 400-nit brightness setting helps to maintain its visibility – especially when it comes to outdoor viewing. Noteworthy to mention as well, the Surface features an optically bonded display, similar to in-cell touch technology used by the iPhone 5 and LG Optimus G most recently, allowing the screen to be closer to the surface of the display. There's no arguing it gets the job done with most benign things, but above all, its low resolution doesn't do justice in giving its display the sharpness it needs to polarize prying eyes.
Touch Cover:
If you haven't noticed it already in the Microsoft Surface commercials, the secondary star attraction of the Surface is the optional Touch Cover, which retails for $120 when bought separately and is available in different colors. Acting as a smart cover on one hand, the Touch Cover firmly snaps into the Surface's magnetic connector dock – with an audible thud sound to indicate it's positioned correctly. And boy is the connection strong! So much so that it can hold the entire dead weight of the Surface as it's dangling. Of course, it's also there to protect the display when it's closed.
Secondly, the Touch Cover provides us with a
full-sized keyboard
with directional keys and a trackpad. Lined with a fabric-like material, it manages to retain a very clean appearance at all times, but there's very little distinction between buttons because of their flush appearance. Sensitivity is hit and miss in our experience, as light taps aren't registered sometimes – resulting in firmer taps of the finger. To tell you the truth, we find ourselves more productive typing with Surface's on-screen keyboard. Still, it feels more natural typing things up when propping the tablet on its kickstand and using the Touch Cover, as opposed to laying the Surface flat on our lap to use the on-screen keyboard. If you prefer physical responses, you might want to consider picking up the Type Cover, which is thicker in size and priced a little more at $130, but offers the tactility of real buttons.
Recommended Stories