Next Amazon Kindle Fire screen scaled to 8.9", say suppliers
1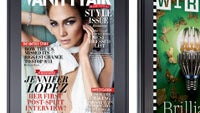 The next version of the
Amazon Kindle Fire
is supposedly endowed with a bigger display, and most rumors pointed out it might go all the way up to a 10-incher so far.
Those omnipresent "supply chain sources", however, now whisper that Chughwa Picture Tubes (now that's a name we cherish) and LG Display, the makers of the 7" screen of the Kindle Fire, have received orders for 8.9" displays. This won't make the second Kindle Fire much bigger than the first one, which is a
pretty limited in terms of hardware bells and whistles device
, as far as Android tablets go.
The bigger versions of the Fire are supposed to carry more extras and a higher price tag, but still expected to be sold at
around production value by Amazon
, but tie you up in its retail and cloud media ecosystem to recuperate the costs. The sources also hint that there might be a 10.1" variant in the works for 2012, as well as a 9.7" one, with one of these close sizes not making much sense.