Amazon Kindle Fire Review
14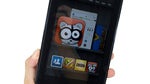 Introduction:
As nostalgia sets in, we can only think back to the day when the Apple iPad was first unveiled, seeing that it was a groundbreaking moment in time for general computing. Besides witnessing an intuitive experience on a tablet level, which wasn't necessarily seen before its time, the one thing that impressed people most about it was its highly competitive $500 starting price point. Today, it seems that many companies strive to achieve that figure with their alternatives – thus, bringing us into the constantly shifting price wars.
So when Amazon finally dropped the news regarding its Kindle Fire tablet a few weeks ago, many were enamored to find out its price, yet somehow, it was all too expected. Nevertheless, the easy-to-swallow $200 Amazon Kindle Fire is here itching to ignite itself into stardom – thanks to its combined functionality of being an eReader first, with some light tablet-ing sprinkled on. There's no arguing that it's priced remarkably on so many levels, but will it contest to replace the titans in the tablet landscape? Or will it merely prove to be nothing more than a laughable tablet wannabe?
The package contains:
Amazon Kindle Fire
Wall Charger
Quick Start Guide
Design:
When you're priced so affordably out the door, it's hard to expect a design that's going to exhibit the traits of being stylish or chic. Let's be for real with ourselves, we can't knock on the Amazon Kindle Fire for its spot-on conventional tablet design, but there are still people that take pride in materialistic possessions.
Fortunately, the Kindle Fire is one solidly built tablet that enables it to stray from the perception of something being on the cheap side – thanks to its soft touch back cover and accompanying weight (413 g) that combined together give off that sensible feel in the hand. Even though it doesn't attempt to be the thinnest or most compact 7" tablet out there, we're still able to comfortably hold it with one hand. Interestingly, its overall design very much looks like the
BlackBerry PlayBook
, and honestly, if you remove their brandings, it'd be nearly impossible to tell the two apart. Overall, it's no looker that'll attract people from afar, but rather, we have to give kudos to Amazon for at least coming up with something that's exceptionally solid feeling for its price.

For its
display
, Amazon decided to outfit the Kindle Fire with a 7" IPS LCD panel, and when you combine that with its resolution of 1024 x 600 pixels, it's fairly standard amongst the spectrum of 7" tablets. Reading shouldn't be much of an issue, because you can always adjust the font size to your liking. Furthermore, like other IPS displays we've seen, color production is very neutral with its tones, which essentially provides for some realistic looking colors – as opposed to oversaturated ones we tend to see with AMOLED displays.
Viewing angles
are broad to maintain its visibility, but it doesn't quite have the strongest brightness output we've seen on a tablet, which proves to be a challenge when trying to use it outdoors with the sun present.
Considering that the Amazon Kindle Fire is one clean and minimalistic looking tablet, there are barely any noticeable
buttons or ports
protruding from
its side
. However, taking a quick peek on the bottom edge, we do find a 3.5mm headset jack, microUSB port, and dedicated power button. With the latter, it might be on the small size, but luckily, its response is springy enough when pressed. Meanwhile, on the top edge, the only items that are present are the left and right speakers. Finally, flipping it over to the rear, there's nothing of particular interest except for the prominent Kindle branding embossed into the soft touch rear cover.
So what's missing you ask? Well, it omits a volume rocker to quickly modify its level, though, it is controlled via the software. Secondly, there are no cameras whatsoever to give us the ability to shoot photos/videos, and at the same time, that means there isn't going to be any video chat functionality. Next, it lacks a microSD card slot for additional storage, which might handicap some people because of the paltry 8GB of internal storage it's packing – albeit, Amazon does stress the cloud storage you gain. And lastly, there is no video-out functionality of any kind, meaning, you'll be strictly relying on the tablet's screen.