Amazon selling Kindle Fire at $10 loss for each unit sold
19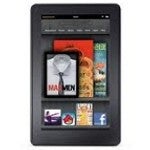 Last week, Amazon announced that it would
sell its 7 inch Wi-Fi only tablet, the Amazon Kindle Fire, for $199.99
. Many have speculated that Amazon is willing to take a loss on each tablet it sells, planning on making up the difference by
selling tablet owners apps, content and cloud based services
. But the question, is
just how much of a loss is Amazon taking on each unit sold
? Gene Munster, a Piper Jaffray analyst, calculated that the deficit is $50 for each Kindle Fire sold, but according to a breakdown of the tablet by IHS iSuppli, that estimate is way too high.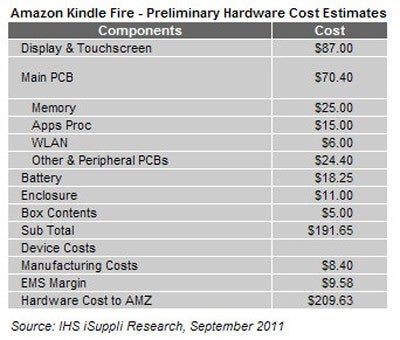 The component costs of the Amazon Kindle Fire
Working off a list of known and expected components, IHS iSuppli figured that
each Amazon Kindle Fire cost $209.63 in parts and assembly
meaning that Amazon is taking about a $10 hit on each tablet it sells, which sounds like a number easily made up by offering users other Amazon provided features. After all, a 1 year subscription to its Prime service costs $79 alone, for unlimited streaming movies. Just about every movie watched or note heard by a Amazon Kindle Fire user will come through the manufacturer.
As for the tablet, the most expensive part of the device is the LCD screen priced at $87 and the dual-core TI processor and other components to its mainboard added up to $70.40. IHS iSuppli figures that after selling users the content and other services,
Amazon is actually turning a $10 profit on each tablet sold
. And with the $199.99 price of the 7 inch device, you can expect that the Amazon Kindle Fire will be one hot-selling product this coming holiday season.
source:
IHSiSuppli
via
electronista