New 'iPhone 6c' and second-gen Apple Watch set for March announcement
56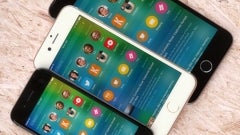 The first-gen
Apple Watch
, released earlier on this year, has certainly helped to bring the idea of wrist-worn tech to the forefront. It hasn't quite had the disruptive impact of the
original iPhone
or
iPad
, nor has it apparently
affected the thriving market
for fitness trackers. But it's an emerging product that Cupertino intends to proceed with, beginning with the second model in a few months' time. Per a new report, Apple will unveil the second-generation Apple Watch in March, and take the wraps off a 4-inch 'iPhone 6c' at the same event.
Like so many smartwatches, Apple's effort feels much like a work-in-progress. Lacking in many features to which consumers have become accustomed, the price tag has done little to justify what has been dismissed by some as an expensive, fashion-focused toy. But Tim Cook's firm looks set to make a number of feature enhancements looking ahead to Apple Watch 2, which sources of
9to5Mac
expect to arrive in March 2016.
Apple has been working on a number of Watch-centric features, including a camera, wireless functionality, a tracker for sleep, and some new health sensors. Whether all of these enhancements will be ready to roll with the next version is not yet established. But if the upcoming device is to really grasp the smartwatch nettle, one suspects that a camera, at the very least, will need to be part of the bargain.
The report also briefly mentions a new iPhone 6c device, expected to pack a 4-inch display and cater to those seeking a smaller iPhone device. Said handset will supposedly offer a power level of somewhere between the
iPhone 5s
and
iPhone 6s
, which, if true, would be a marked improvement upon the plastic
iPhone 5c
.
There's no word on the design characteristics of this elusive handset, although we did hear earlier this month that a
metallic iPhone 6c
could be ready for a February launch. A March unveiling alongside the next Apple Watch would make some degree of sense, although given that iPhones tend to arrive in the fall, it would be an uncharacteristic launch period for an Apple handset.
Thoughts?
source:
9to5Mac