Apple Watch Review
64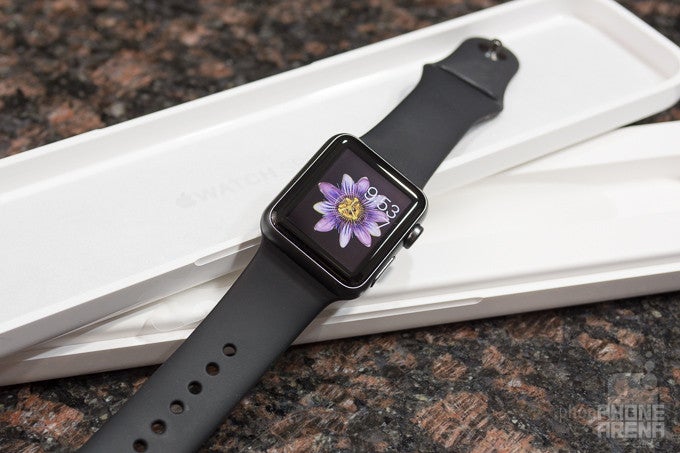 Update

: You can now read our Apple Watch Series 2 review!

Introduction
Back in 2007, the smartphone world was turned upside down with the introduction of the original iPhone. In just a matter of a couple of hours, it undoubtedly pushed things forward into new heights that hadn't been obtained before – seemingly putting all other smartphones before it in the dust; outdating them in the process. That, of course, was a monumental moment in our technologically driven society.
Since then, we've seen Apple move into other new areas that led them to become yet again the dominant force. Take the iPad as an example. Even now, with competition ranging the gamut, it's still widely regarded as the premier tablet for its impeccable design and tablet-centric apps ecosystem. Conquering that market, Apple is eying its focus on yet another budding segment that demands meticulous overseeing in order to prove to consumers that there's a viable place for its presence. What's that you ask? Well, it's none other than the smartwatch market.
Enter the Apple Watch, the company's ambitious take on the modern smartwatch, which has yet to see a champion that rises above all others. Indeed, we can mention a few models from the Android Wear camp that have piqued our interest, but for the most part, there's still not a single, dominant one that can transform the smartwatch's reputation from a want, to a necessity. Can the Watch achieve that? Knowing Apple's track record, we're confident that it's plausible, but at the end of the day, it'll need to prove to all of us that it can.
Our package contains:
Apple Watch
Wall charger
Black sports band
Magnetic conductive charging disc
User's guide
Design
A humble looking design that covers the gamut, it's far more customizable than most smartwatches.
Before we get into the nitty-gritty, let's first explain the various models that are available with the Apple Watch – Sport, Watch, and Edition, which are offered in either 38mm or 42mm casing options. In terms of pricing, the base 38mm Sport aluminum model starts at $349 (42mm is $399); the middle-ground stainless steel one goes for $549 for the 38mm case, and $599 for the 42mm one; and finally, there's the luxurious Edition version with 18-karat gold body that starts from $10,000 for the 38mm case and $12,000 for the 42mm case. For our review, we have the 38mm Sport model that comes with a standard black fluoroelastomer band.
While the Apple Watch isn't an 'instantly mind-blowing design' type of thing, it's one of the more favorable looking smartwatches we've seen – boasting a concoction of simplicity, modernism, and premium into one. Constructed from what Apple refers to as 7000 Series Aluminum, with our unit sporting the Space Gray color (there's also a Silver option) and a matching black fluoroelastomer band, it certainly has a pleasant uniform look, but of course, a higher contrast can be achieved by picking up any of the handful of colored bands that Apple sells.
Versus other smartwatch designs, this one is an undeniably favorable one with its sturdy feel, but at the same time, it's not something we'd classify as class-leading. It could be attributed to its square shaped watch face style, which we don't feel as stylish as some of the round faced designs we've seen.
Worn on our wrist, the 38mm Apple Watch Sport might look a little small for most men, but it's something that many women feel to be better sized for them. Of course, the 42mm model is more proportionally correct for those with bigger wrists, but frankly speaking, it's a nice looking watch either way. That's partly due to how the edges of the Apple Watch are rounded, offering a uniform look – while the glossy front helps to contrast the aluminum casing. And then there's the fluoroelastomer band, which is rubbery in texture and offers great fidelity with physical activities thanks to its water resistant properties. Adjusting the strap is a cinch too, as all that's needed is to find the correct cutout.
While the Watch Sport model targets active individuals, the Watch and Edition models exude a higher degree of premium with the Watch's stainless steel case – and the 18-karat rose or yellow gold casings with the Edition. Add in the various straps that Apple sells, like the link bracelet, modern buckle, Milanese loop, classic buckle, and much more, there's significantly more personalization achieved by the Apple Watch than anything else around. Depending on which one you go with, obviously, the final price of the Apple Watch can jump significantly – so bear that one in mind.
Along the right side of the Apple Watch, there's the so-called Digital Crown - that's a modern twist on a classical feature. Much like what you find on a standard watch with a crown, it can be rotated and pressed – where the former function allows us to scroll through certain lists or zoom, while the latter is used to turn it on, move between the homescreen and apps tray, and act as the 'back' function. Honestly, it's pretty smooth and responsive, and we're really impressed by how precise it is with its movement.
Below the Digital crown is yet another button, one that's flatter and oval in shape, which acts to turn on the display and cycle between the watch face homescreen and favorite contacts when it's pressed – while long pressing gives us the option to lock the watch, power off, or place it in power reserve mode. Over on the left edge, the only two things there are the internal speaker and microphone. For Dick Tracy fans out there, they'll be especially pleased to know that the Apple Watch can be used to make and receive phone calls – plus, there's also Siri access as well.
On its underside, the circular sized mid-section juts out from the casing, which packs the Apple Watch's new, custom heart rate sensor, to gently rest over our wrist. By just a cursory inspection, one might presume that this design choice might make for an awkward fit, but that's hardly the case. Finally, another two buttons flank the heart rate sensor – their purpose is to release the strap from the case – it's a simple and effortless procedure, which makes installing various straps a breeze.
Designated with an IPX7 certification, it means that the Apple Watch is water resistant – not waterproof. Essentially, it can withstand immersion in water up to 1 meter deep for 30 minutes at the maximum. However, you should know that not all of the bands are resistant to water either, so you'll need to be aware about that. Even though it's safeguarded against sweaty workouts, washing our hands, and even being caught in the rain, it's not meant to be used prolonged for activities like showering or swimming.
All told, while it's not the most unique looking smartwatch on the market, Apple treads the course cautiously by designing a very practical looking watch – one that's precisely crafted and embodies the qualities of Apple's meticulous approach to design. It's not cheap looking or feeling, thankfully, but it also doesn't tend to be exorbitantly eye-catchy either.
Display
Impressively, it's one of the best looking displays on a smartwatch – and it goes the extra step with Force Touch technology.
The centerpiece of the 38mm Apple Watch Sport is its 1.32-inch 272 x 340 OLED display, which is the first time we've seen the company dive into the world of OLED screens. And boy does it make a compelling splash! Interestingly, Apple classifies the screen's pixel density figure of 272 ppi as being a Retina Display. Regardless, while we certainly have no qualms about its detail and sharpness, the 42mm variant gets treated to a slightly larger, 1.5" display panel with better resolution - 312 x 390 pixels.
We won't deny that the screen is utterly beautiful, arguably one of the best we've seen in a smartwatch thus far – meeting and maybe eclipsing the LG G Watch R's screen in the process. Impressively enough, the screen pops magnificently and gracefully with its potent brightness and vibrant colors. Topping it off, too, is the fact that the Sport edition is safeguarded by a layer of Ion-X strengthened scratch resistant glass, which is similarly employed by the iPhone 6. Meanwhile, the Watch stainless steel and Edition version are protected by the even tougher sapphire glass. From various angles and lighting conditions, we're astounded by the screen's ability to maintain its clarity – so colors don't distort, nor is there much glare.
Already employed in its new Macbook line, Force Touch technology makes its presence known in the Apple Watch – where the screen is capable of differentiating a tap from a press. While it's only supported by a few apps at the moment, it's remarkable at how well it works. For example, if we want to change the homescreen clock face, we can gently press into the display for it to 'minimize' the panel, and from there, scroll to the watch face we want to use. Normally, something like this would be done by just doing a long press on the screen, but Force Touch works exquisitely to differentiate a tap from a press.
Recommended Stories