Apple may release a metal iPhone 6c in February
21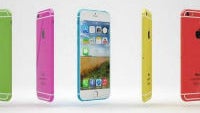 There are a lot of rumors floating around right now about what is on the horizon for iPhones. First we heard about a number of potential prototypes in the works for the Apple iPhone 7, and now we're hearing that Apple might be looking at releasing the rumored iPhone 6c as soon as this coming February.
The report cites various unnamed sources, including supposed Foxconn insiders, who have been working on the iPhone 6c. Apparently, the device would be the previously
rumored 4-inch Apple device
that had been in the works, and it would include a TouchID fingerprint scanner. But, being a "C" class Apple device, it wouldn't have all the best features, so 3D Touch might not be part of the package. The iPhone 6c is also said to have a number of color options, just like the 5c and will be made out of metal.
Because this is a "C" class device from Apple, that would mean a slightly lower price point, and the report claims somewhere in the $400-$500 range. However, this leads to the question of what Apple will do with the iPhone 6 and 5s, which currently sell for $550 and $450, respectively. When Apple introduced the iPhone 5c along with the 5s, it flat out stopped selling the iPhone 5 and the 5c slid into the mid-range spot in the lineup, while the iPhone 4s remained in the low-end spot. Given the rumored price, it would seem Apple might be considering keeping the iPhone 6 in the lineup in the $550 spot, but replacing the 5s with the 6c.
If the rumors are to be believed, Apple will be announcing the iPhone 6c in January and releasing it in February. So, if the news is accurate, the rumors will likely only get more frequent from here on out.
Recommended Stories