New Balance and Intel introduce a new smartwatch, the RunIQ
13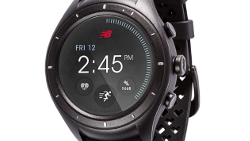 So what does a sneaker company have in common with a company known for making computer chips? Last year, running firm New Balance joined with Intel in announcing the coming creation of the
New Balance RunIQ
, an Android Wear powered smartwatch for runners. Now, at CES 2017, we have a good idea of what this smartwatch can bring to the table.
Powered by Intel's Z34XX processor, the New Balance RunIQ carries a 1.39-inch AMOLED display. 512MB of RAM is inside with 4GB of native storage on board. The back of the casing features an optical heart-rate monitor, along with GPS capabilities. The timepiece includes a lap button and interval capability. The battery will run 24-hours on a single charge (for those long marathon races), and five hours if you are running the heart rate monitor and GPS.
Using Wi-Fi or Bluetooth, users can receive notifications from their paired smartphone, and listen to Google Play Music from an Android handset. New Balance runners can communicate with each other thanks to the New Balance Global Run Club powered by Strava. This is a platform for New Balance wearers to share their favorite routes and exchange accomplishments. Inside New Balance stores, you can learn more about this along with news about local events.
Intel previously teamed up with watch maker TagHeuer for the $1,500
Connected
. The RunIQ is a more affordable $299.99 in black or gray face. Pre-orders start tomorrow, January 5th, and the watch goes on sale February 1st at New Balance stores, and online. Accessories like chargers and watch bands will be available.
"New Balance has a 110-year heritage of product development and innovation in the running category, and RunIQ represents our commitment to helping athletes achieve unparalleled fitness experiences. A smartwatch for runners made by runners, RunIQ combines our expertise in running with the best engineering advances through breakthrough collaborations with some of the biggest players in the technological industry."-Rob DeMartini, President and CEO, New Balance
New Balance also has another product that was the result of a collaboration. Jabra and New Balance are offering the PaceIQ, which is a pair of Bluetooth headphones that supports audio coaching in real time. Priced at $109.99, the PaceIQ will also launch on February 1st and comes with 3 sets of EarGels, 1 FitClip and a USB cable.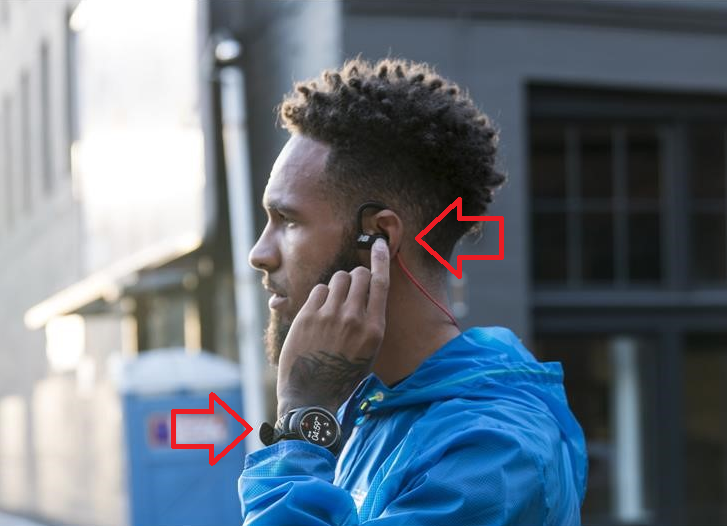 Team New Balance Athlete Boris Berian with RunIQ and PaceIQ
source: NewBalance