Motorola releases official videos for the Moto G5 and Moto G5 Plus
2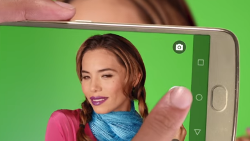 Earlier today,
Motorola unveiled the Moto G5 and Moto G5 Plus
. To accompany the announcement, the company released several product videos keeping with its new style of brightly colored ads with strange images (remember the blonde Uma Thurman look-a-like turning into a hot dog in the Moto Z spot?) and sounds. It makes you wonder if a long lost batch from Owsley was discovered in Moto's marketing department (Google it).
The ads even mention some of the Motorola gestures that veterans of the brand are familiar with, such as the double wrist twist to open the camera, and the Atlanta Braves double tomahawk chop to turn on the flashlight. Swiping up on the screen allows for "one-handed use," and putting a ringing
Moto G5
or
G5 Plus
face down while ringing turns on the "Do not Disturb" mode.
Other videos mention the f/1.7 aperture on the G5 Plus' rear camera, which allows users to confidently snap away in low-light conditions. You can check out all of the clips by clicking on the video slideshow below.
source: Motorola (
1
), (
2
), (
3
), (
4
)