Motorola Moto G4 Plus starts receiving the Android 7.0 update
11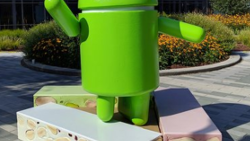 Android 7.0 is now being rolled out to the
Motorola Moto G4 Plus
. The phone, which is available in the U.S. from the Moto Maker website, will work with Verizon, AT&T, T-Mobile and Sprint. It will also work with U.S. Cellular and Consumer Cellular. The update, which is starting in India, will be sent out in waves which means that it could take a few days before your phone receives it.
Android 7.0 brings seamless updates that allow new builds to download in the background. When you boot up your phone the first time following the update, the new build is automatically loaded on the phone. The update also brings a improved version of Doze. This is the feature that waits for your phone to be inactive, and then shuts down apps running in the background. Bottom line? Doze results in longer standby times and improved battery life. One of the most eagerly anticipated parts of the update is the new Unicode 9 emoji that comes with Nouget. And with multi-window mode, you can use two apps at the same time by having them run side-by-side, or with one on top of the other. These are but a few of the new features you'll find on Android 7.0.
You can try to pull out the update manually by going to
Settings
>
About Phone > Software Update
. When you do receive the notification that the update has arrived, make sure that you are connected to a Wi-Fi signal before starting the updating process. This way, you won't have to use any of your precious data to update your device. Additionally, make sure that your phone's battery is charged fully before you start updating the phone. If your Moto G4 Plus were to turn off in the middle of loading the new files, you could end up bricking the device in the worse case scenario,
Just for your information, when the Moto G4 Plus was launched in May, it came with Android 6.0.1 pre-installed.
source:
Techdroider