Motorola Moto E coming to Republic Wireless next month for $99
4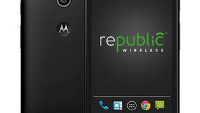 The
Motorola Moto E
is coming some time next month to Republic Wireless. This is the low-priced carrier that uses Wi-Fi to offer a $5 monthly plan consisting of unlimited talk, text and data. Other plans include a $10 a month service that features unlimited talk and text over Wi-Fi and cellular connections, and unlimited Wi-Fi data. For $25 a month you receive unlimited talk and text over Wi-Fi and cellular, and unlimited data over Wi-Fi and 3G. Toss in $15 more a month to $40, and the unlimited data comes at you in 4G speed. If you consume more than 5GB of data over a 3G or 4G connection during a month, you data speed is throttled until the new month starts..
Let's return to the phone. The Moto E will be $99 lock, stock and barrel. The handset supports 3G (there is no 4G connectivity on the phone), and comes with just 4GB of native storage. Yes, there is a 32GB capacity microSD slot available for those requiring more memory. The phone is equipped with a 4.3 inch display with resolution of 540 x 960 and is driven by a dual-core 1.2GHz Snapdragon 200 CPU. The 5MP snapper on back is the only camera on the handset, which has 1GB of RAM and a 1980mAh battery inside. Android 4.4.4 runs the show. The Motorola Moto E can be purchased in black or white, with optional shells available for color customization.
Republic is also offering the 16GB Motorola Moto X for $229, which includes support for 4G data. The Motorola Moto G is available with 8GB of storage ($149) or 16GB of the stuff ($179).
source:
RepublicWireless
via
CNET