Motorola Moto E Review
99+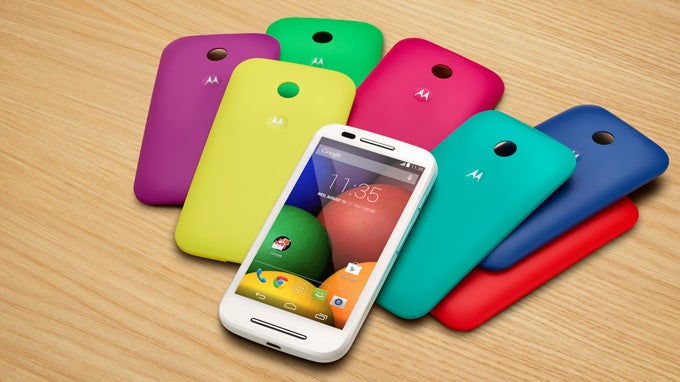 Introduction
Motorola's strategy has been a peculiar one lately to say the least. In the high-end segment, its
Moto X
Android smartphone proved to the masses that great phones don't need beefy specs to stand a chance in being successful. Meanwhile, on the other end of the spectrum, its
Moto G
ushered in a new era for the proud company with its hard-to-beat price. In following up to that success, the
Moto E
stands to continue the trend by diving deeper into the competitive entry-level segment of the market. Brandishing an even more aggressive $130 off-contract price, can the Moto E permanently make extinct those feature phones?
The package contains:
Wall charger
Get Started Guides
Design
Pricing might be regarded as dirt cheap, but it bears a humbling design that comes off slick.
Cosmetically, Moto E employs the same humble design language of the Moto G before it, but there are a few minor differences. Compact, lightweight, and form-fitting, it's a comfortable thing to hold despite being a little bit chubbier than the Moto G – thanks in part to its decent construction and slightly arched casing. Relying on a plastic build, there's a pleasant personalization aspect to the design, seeing that the rear casing is interchangeable. Factoring the cost, the design of the Moto E could've gone a total different way, but in the end, Motorola manages to deliver something that doesn't come off obnoxiously cheap.
So what's different about the phone from the Moto G? For starters, the speaker has been positioned to the front – just below the display. However, they had to omit a front-facing camera to keep its cost with their target budget. Besides that, everything else is pretty much the same here. They include its power and volume controls on the right, microUSB port on the bottom, and its 3.5mm headset jack on top.
Around the rear, there's a 5-megapixel fixed focused camera sans flash, which has the ability to shoot 854 x 480 (FWVGA) video. Fortunately, a microSD card slot is hidden behind the rear casing to supplement its storage capacity. Although it's not expected to survive submersion, the Moto E features a water-resistant splash guard to safely protect it from minor splashes.
Display
Far from being the sharpest on the block, the display gets the job done without a whole lot of complaints.
Honestly, we weren't expecting anything extravagant with the display, especially knowing its price point. Sporting a 4.3-inch 540 x 960 (qHD) IPS display, which gives it a pixel density count of 256 ppi, it's effective enough for most things, but don't expect crisp results everywhere. Sure, it's still good for surfing the web, so there's not much concern regarding its detail.
However, its weaker brightness output of 389 nits combined with its poor viewing angles, doesn't make it a strong usable candidate under sunny conditions. From the front, colors radiate with a punchy and robust tone, but the slightest of tilt causes them to wash out. Hardly expected to enthrall us, the display here might not earn high marks in all key areas, but at the end of the day, complaining about its deficiencies is pointless due to its low cost.
Display measurements and quality
Recommended Stories