More Verizon LG Optimus Vu images surface, launch looks imminent
8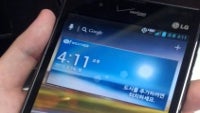 We are already almost certain that the gigantic
LG Optimus Vu
phablet is coming to Verizon in the near future, but now we have even more images confirming this from an inside source. The Optimus Vu, a phone with a 5-inch screen and unusual 4:3 aspect ratio making it extremely wide, surfaced with the Verizon branding on it
Our source also tells us that after an ESN swap, the Verizon Optimus Vu was a fully functional device.
Earlier, we saw the 5-inch LG phablet run on Ice Cream Sandwich, which is good news given that the Korean unit we just reviewed recently was based on the dated Gingerbread.
The device is expected to run on a Snapdragon S3 chip with a1GB of RAM, and come with 32 gigs of internal storage and an 8-megapixel rear camera. Of course, its biggest highlight is the 5-inch 768 x 1024-pixel 4:3 screen which is convenient for reading, but not the best fit for watching online video mostly encoded in 16:9 aspect ratio.
Check out the images below and let us know - will you be getting this device if it comes on Verizon soon?
Thanks, Kapitaljin!