LG Intuition Review
13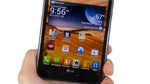 Introduction:
There's nothing like a big slab of phone to really capture the attention of people, right? Seriously, from the looks of it all, the more a smartphone goes outside the norm to appear hulkier, the greater the curiosity is amongst people in knowing what it's all about. As we've seen already with the
Samsung Galaxy Note
, people are simply mesmerized by this hybrid smartphone category – you know, the one where devices are referred to as phablets, tabphones, or ginormous smartphone slabs.
Even though our first encounter with these colossal smartphones came in the form of the
Dell Streak
, it wasn't until the Samsung Galaxy Note that it became popularized. Well, Korean based manufacturer LG wants to get into the exclusive club as well, and with that, they've brought to market the
LG Intuition
for Verizon Wireless – also known abroad as the
LG Optimus Vu
. Sure, it boasts the "Rubberdium" stylus for the convenience of drawing or writing something, but what separates it from most of the competition, is the unique 4:3 aspect ratio of its 5" IPS LCD display. Is it peculiar? Absolutely! We're hoping it can at least exceed the standards set by its rival.
The package contains:
microUSB cable
Wall Charger
Quick Start Guide
Product Safety and Warranty Information
Design:
"Whoa, is that a smartphone?" That's one of the many expected phrases you're going to hear quite often when the LG Intuition is in public view, mainly because its sheer size is an instant attention grabber. To tell you the truth, the handset sparks conversation amongst random strangers, simply because they're so curious about it. However, beyond its gargantuan size, there's nothing particularly too compelling with its overall design – as it shares nearly the same design DNA of other devices we've seen from LG.
With its all-plastic body, it maintains a mostly clean appearance thanks to the pattern design of its rear, which is further complemented by its decent build construction. Although its size gives it notoriety, it's also its Achilles' heel at the same time – mainly because it's one of the widest (3.56") smartphones around. Essentially, it's impossible to use it with one hand, as our fingers are unable to fully encompass the entire real-estate of its display. So yeah, two handed operation seems to be most optimal with this one.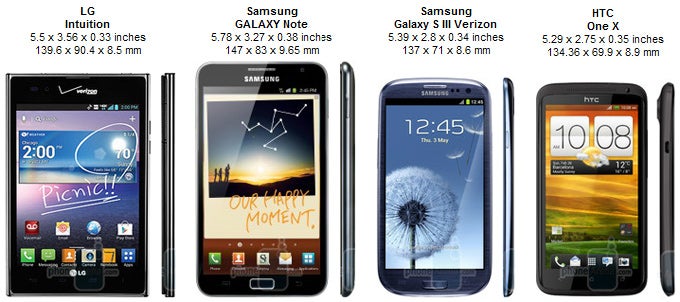 You can compare the LG Intuition with many other phones using our
Size Visualization Tool
.
Thankfully , the
4
capacitive buttons
below its display are spaced far away from one another to reduce accidental presses. Meanwhile, above the display, we're presented with its narrow earpiece and
front-facing 1.3-megapixel camera
– the latter of which can shoot video in 720p.
From the look of it, the majority of the handset's buttons and ports are situated on the
top edge
of the smartphone. In fact, we're presented with its 3.5mm headset jack, noise cancellation microphone, microUSB port, QuickClip button, and dedicated power button.
With the
microUSB port
, which offers video-out via an MHL adapter, we love how it's hidden behind a sliding cover to prevent dirt and debris from messing around with it. Despite having a flat appearance, we like the subtle white glow surrounding the
power button
when it's pressed down. And lastly, when pressing on the
QuickClip
, it takes a screenshot of whatever you're doing and launches the QuickMemo app, where we can then proceed to make some quick doodles on the screenshot and share it.
Checking out the
left side
of the handset, it appears to be bare, but the microSIM slot is discretely hidden behind a plastic flap. Conversely, the right edge of the smartphone is home to only the separated volume controls, which are difficult to make out with our finger due to its flat feel, but at least its response is springy.
Finally, the LG Intuition's 8-megapixel auto-focus camera with LED flash is tucked away in the upper left corner of
the rear
, while two notches towards the bottom left corner make up its speaker grill. Interestingly, there's no access to its battery, which means it'll require servicing if it needs to be replaced.
Display:
So what's the culprit behind its beefy size? Well, it's all because of the
5-inch 768 x 1024 IPS-LCD display
it's packing along for the ride, which so happens to employ a 4:3 aspect ratio. Although some might be disappointed by the lower resolution, it's still detailed enough at a pixel density of 256 ppi – thus, making fine text more than visible to make out from a distance away. In addition, thanks to the accurate colors produced by its IPS-LCD display and its brightness output of 650 nits, the display is legible even under direct sunlight. However, we do notice some distortion going on at extreme viewing angles, but for the most part, it maintains its clarity head on.
Naturally, the
4:3 aspect ratio
proves its worth with things like web surfing, as it's able to perfectly fit an entire page. However, it isn't quite as practical for watching videos – mainly because there are still black bars found above and below videos. Fortunately, LG offers "aspect ratio correction" with third party apps, so they're scaled properly to fit the extra real-estate of the display.
Rubberdium: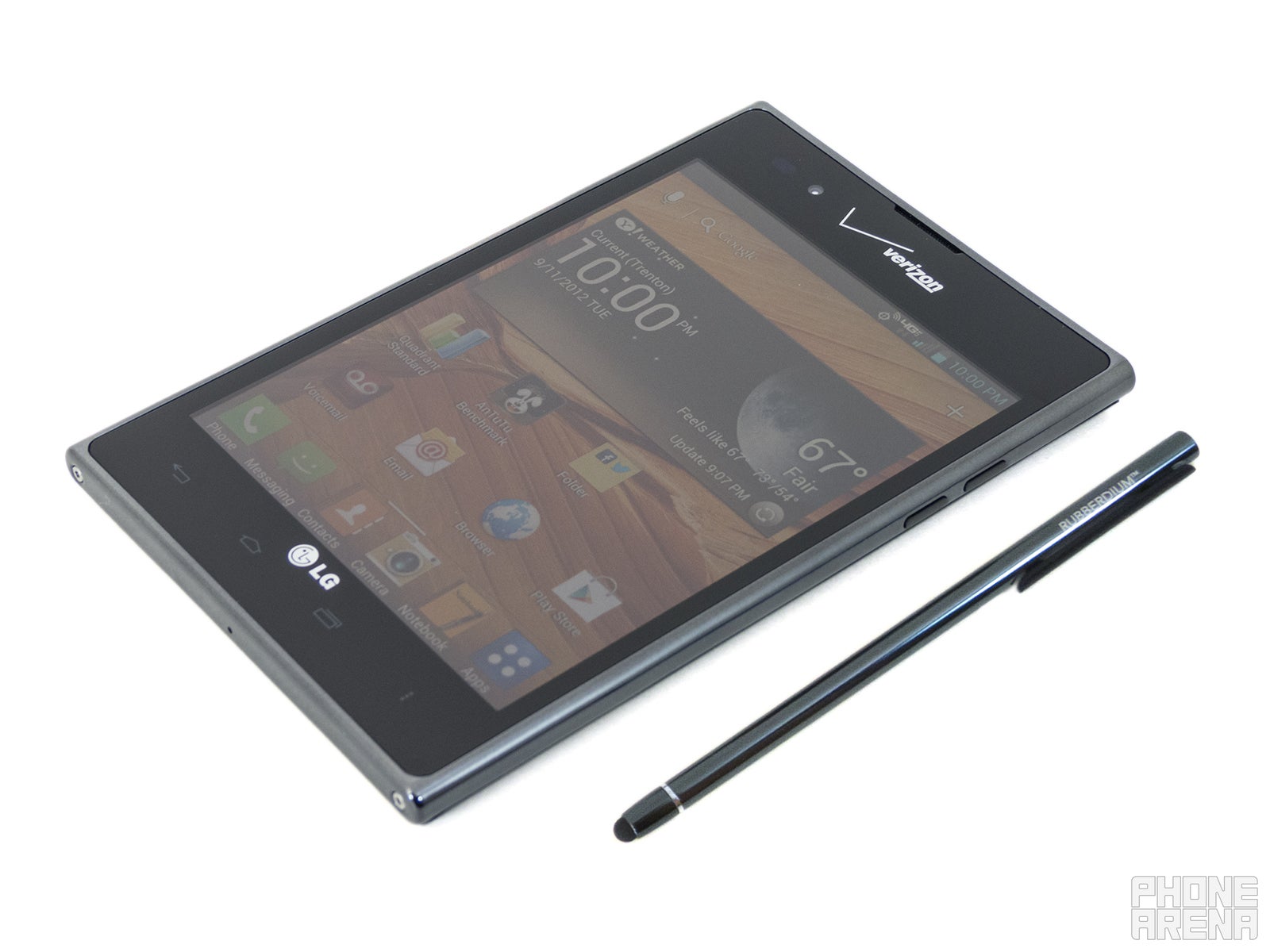 Who knows why LG decided to name its stylus as the "Rubberdium," but alas, that's what it's called. First and foremost, we're baffled as to why LG couldn't somehow put in a slot somewhere on the smartphone to accommodate the Rubberdium when it's not in use – meaning, it's going to get misplaced or lost very quickly. Heck, we would've been happy with an lanyard attachment or something else just to keep the Rubberdium nearby.
Well, it's nice to see that the Rubberdium stylus is comfortable enough to hold and use, but unlike the S-Pen of the Samsung Galaxy Note, it doesn't recognize various degrees of pressure sensitivity – so it's basically like any other capacitive stylus out there. Furthermore, you'll have to bear in mind that you can't write or jot something down with the Rubberdium if you rest your palm on the display. No doubt, it's a nice addition to have on the LG Intuition, but it simply pales in comparison to the depth of functionality and precision found with its rival in the S-Pen.
LG Intuition 360-degrees View:
Recommended Stories