Missed the Samsung Galaxy Note 7 announcement? Watch the full event here!
2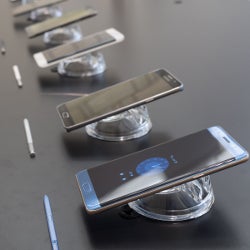 In case you haven't heard, Samsung held an Unpacked event yesterday to
announce the newest iteration
of its biggest, baddest phablet line – the
Galaxy Note 7
. Packing an
iris scanner
and a dual-curved display, it certainly is the most advanced Note yet, and Sammy took pride in presenting it on a very flashy stage, as if to demonstrate just how tech-oriented and forward-thinking the company is.
It was also a very condensed event, which we do appreciate. After a 20-minute intro by Samsung Mobile president Dongjin Koh, we were treated to a short, focused presentation of what the Note 7 is and what it does. And now, the full 52-minute event can be watched on YouTube, straight on Samsung's channel. So, go ahead and check it out if it tickles your fancy!