Microsoft teases a WP7 version of the Samsung Galaxy S II, plus new handsets from Fujitsu, ZTE and Acer
27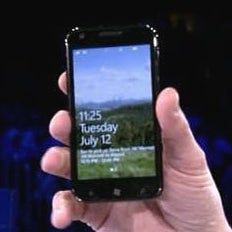 Microsoft's
WPC 2011 conference
which we reported from yesterday is in full swing, and special time was dedicated to Windows Phone, with Redmond showing off not one or two, but
four new WP handsets
. While it didn't specify many details about the phones themselves, Microsoft reiterated that we will have three new manufacturers jumping on the bandwagon -
Acer, Fujitsu and ZTE
.
But there were actually four handsets on stage, with the fourth being none other but the
Windows Phone version of the Samsung Galaxy S II
, one of the best handsets money can currently buy. Samsung's phone, as well as all others that were present during the keynote, seemed to have the good ol' front-facing camera, which is a feature supported in Mango, so it will be a safe bet to conclude video calling is coming to Microsoft's mobile OS. Not to mention that we are just dying to see what Microsoft will do with the Skype integration in Windows Phone. "
Phenomenal screen resolutions
" was mentioned as an upcoming trend, but it didn't become clear if the talk was about Samsung's WP7 handset, or just a general remark.
What is even more exciting, however, is that Mango will likely usher us in the multicore era, if the replica of the Samsung Galaxy S II that was seen on stage at the WPC 2011 is any indication. Fujitsu's offering was shown in pink, and is... wait for it...
waterproof
, as most self-respecting smartphones in Japan are. It was also mentioned that it has a "great camera", and we know that the Fujitsu F-09C, which was announced for Japan three weeks ago has a 16MP Exmor R camera (and a swiveling 3D display, but that's a whole different story), so could it be the case here as well? From ZTE and Acer, as usual, we should expect great value for money ratio in their Windows Phone devices.