Acer, Fujitsu and ZTE Corp. hop on board of the Windows Phone 7 train
3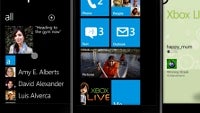 Besides the manufacturers from the first Windows Phone 7 wave, like Samsung, HTC and LG, which already outed a few devices with Microsoft's mobile OS seven months ago, there will be new blood joining the effort.
Obviously nobody shelved their plans to make Windows Phone devices after the Nokia Windows Phone announcement, and that is a good sign that companies are viewing WP7 as a real alternative to the Symbian-Android-iOS trifecta.
Acer, Fujitsu and ZTE Corp
. just announced that they will be hopping on the Windows Phone 7 bandwagon, and their first WP7 handsets will be outed directly with the "Mango" update we are hearing so much about today, by the end of the year. We've heard about Acer, it has mentioned plans to go WP7 here and there, but Fujitsu and ZTE are a good surprise.
Fujitsu is usually pretty good at design, and ZTE can surely bring decent phones at rock-bottom prices to the mix, so we are intrigued about the handsets these three newcomers will announce.
source: Microsoft