Microsoft "all in" on mobile and the cloud, roared Steve Ballmer at the WPC 2011 stage
14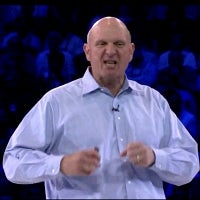 Microsoft's
Worldwide Partner Conference
this year started with one of the coolest openings we've ever seen of a tech event. How does a troop of dressed-up-like-Japanese-businessmen dancers performing the robot sound to you? It was pretty awesome, but the most important part began when CEO Steve Ballmer started delivering his keynote.
He rallied the troops by reiterating Microsoft's commitment to the cloud once again, and basically said that partners won't have much choice but follow this "all in" transition with
Windows 8
, Office 365, Windows Phone, Azure and so on. Ballmer admitted that with phones they went from "
very small to very small
" this year which sounded pretty funny, but the situation is about to change quite a bit, he said, especially next year. The notable thing is that he didn't stop mentioning Windows Phone throughout the keynote, obviously emphasizing that the focus has shifted significantly to cloud and mobile. Moreover, all
presentation slides were Metro-ified
, with big Live Tiles sliding in and out.
Throughout the keynote random jabs at Apple were taken, like when demoing how the Bing platform will be open and socially integrated. The search word was Mango, and the Microsoft executive at the stage said he personally prefers this fruit better than apples. Haha. Some nice Bing integration with Facebook was shown, and new Bing Maps ideas as well, like showing up parking info, even the price.
As for the
Skype acquisition
, Ballmer said it will be the start of consumerization of IT communication, a great addition to its Lync corporate messaging software. Xbox, on the other hand, will have Bing brought to it, to help you find what will become millions of entertainment titles by the end of the year. Voice search was demonstrated by a woman sitting on the couch and shouting at an Xbox to
find X
-Men stuff, plus live TV is also coming to the console.
Now for Windows Phone he bragged that the
20 000+ apps milestone
was reached for 8 months, faster than Android or iOS. Nokia, he said, chose Windows Phone for its merits, after seeing the roadmap, and what Microsoft intends to do with it. An example of what can be done for WP via the Microsoft ecosystem was given with an AA app:
"
American Airlines will soon update its application for Windows Phone, which will provide "the fastest delivery of flight information data on the planet," according to an American Airlines spokesperson. The update will allow real-time flight status information, including gate changes and baggage claim areas, from American's reservation system to be pushed to a cloud-based Windows Azure system, which can then push the flight status notifications directly to the application's Windows Phone Live Tiles. American Airlines customers who download the application and pin it to Start will have instant access to their most current travel information on the top-level user interface of their phone, eliminating the need for text message, email or phone-call updates.
"
Windows 8 was presented again by Microsoft's Tamy Reller. She reiterated it is being built very web- and cloud-centric, running on Intel and ARM chipsets, taking full advantage of touchscreens, but working as easily with keyboards and mouse also. Nothing we didn't know already from the
Windows 8 presentations last month
, but more hardware and the touch-centric functionality will be shown at the Build event in two months.