US carriers driving a hard bargain over the Samsung Galaxy S II, says executive
99+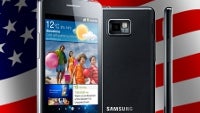 "
Negotiations with American telecom companies have dragged on
" about the
Samsung Galaxy S II
arrival on US shores, one Samsung executive was quoted saying.
It turns out that Motorola's handsets are preferred due to more experience with the all-important CDMA connectivity, which Verizon and Sprint are using, or at least that's the effort to justify the delay.
Still, that doesn't explain the suspicious lack of rumors on AT&T or T-Mobile versions of the Samsung Galaxy S II. It took just a month after the Korean launch for its predecessor, the
Samsung Galaxy S
, to appear in the US last year, although Verizon got it later than the others. Now we are two months and a half and more than
3 million Galaxy S II phones sold
after the release, and nary a mention about a timeframe for bringing it to the US.
The whole situation seems pretty weird, making the conspiracy theorist in us wake up from the slumber. Granted, carriers now have much more choice of quality Android handsets from Motorola and HTC than a year before, and the radio has to be reworked for Verizon and Sprint, but for one of the best, if not the best Android handset out there, and by a company like Samsung, these shouldn't be major issues for the carriers. Plus, it should be up to the consumer to decide which handset is more attractive.
Apple filed an ITC complaint against Samsung recently
, and also asked for an August 5th hearing on a Samsung products ban, like the Galaxy S II, or the Galaxy Tab 10.1, in the US. The court said August 5th seemed too soon, and asked both companies to comment on the proposed date, with
today being the deadline for those comments
. It is expected that Samsung would request a later date, so as it has time to prepare, while Apple will insist on a hearing as soon as possible. If Apple drags this thing enough, it might just become time to announce the next iPhone in September.
It's speculative if these lawsuit tactics are affecting the carriers' decisions about the Samsung Galaxy S II, but who would want to deal with sudden legal issues over a newly released handset, for instance. There is also the issue with larger subsidies for high-end smartphones by the carriers, though, and the Galaxy S II doesn't come cheap. Until you wait for Samsung and the carriers to figure it out, the only thing that can be done is splurge for the handset unlocked, and use it on AT&T or T-Mobile as is.
source:
TheChosunIlbo
via
GottaBeMobile
&
Electronista