Microsoft Sway allows you to show off your ideas and thoughts in a polished report style
10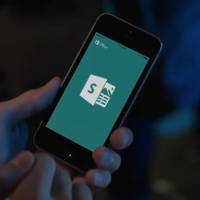 Microsoft Sway is a new app that is part of the Office portfolio of software. The app allows you to show off an idea using various formats. Whether you have a great idea for the next billion dollar business, or you're working on a paper for school, you can bring to life just about any idea you can come up with. With a click you can send it via email to your boss or teacher. Or, you can turn it into a presentation for your class or for the board of directors.
Previously, the only way to get Microsoft Sway was via an invitation. But now, for a limited time only, you can sign up for Sway by clicking on the sourcelink and signing in to use the app.
"Sway is an entirely different way to express yourself and bring your ideas to life. When your ideas are born, you want to explore, visualize and share them—quickly and easily, wherever you happen to be, and on whatever device you have. You want your ideas to be understood. Sway helps you do just that. It's a new way for you to create a beautiful, interactive, web-based expression of your ideas, from your phone or browser. It is easy to share your creation and it looks great on any screen. Your ideas have no borders, edges, page breaks, cells or slides. Your mind is a continuous canvas, and Sway brings this canvas to life."-Microsoft
Microsoft Sway has a number of different templates you can choose from, or Sway can pick out a style for you automatically. If you want to know more about Microsoft Sway, click on the video below. And yes, that is an Apple iPhone on a Microsoft video.
source:
Sway
via
MicrosoftNews