Mass Effect, NBA Jam, Real Racing 2 and Tiger Woods: Nokia gets a ton of Windows Phone exclusive games
61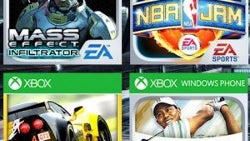 Mass Effect, NBA Jam, Real Racing 2 and Tiger Woods: Nokia gets a ton of Windows Phone exclusive games
Windows Phone is catching up in titles, but if you ask phone manufacturers who support Microsoft's system - it's not really catching up quick enough…
Windows Phone is catching up in titles, but if you ask phone manufacturers who support Microsoft's system - it's not really catching up quick enough. Nokia is the one company most dependant on Windows Phone and Microsoft for its future and that's why it's been pushing for more better apps quicker.
And now it gets them. Coming exclusively for Nokia Lumia Windows Phones are four of the best games available on mobile - Mass Effect Infiltrator, NBA Jam, Real Racing 2 and Tiger Wood PGA Tour 12. All games are made by Electronic Arts.
Mass Effect Infiltrator first launched on Xbox and now comes on WP. It's a pure third-person shooter with controls optimized for touch so that tapping on an opponent locks the fire on them. The game costs $6.99.
NBA Jam brings a dose of basketball fantasy in just the right time as the NBA enters its finals phase. The game lets you play your team of two against another one and costs $2.99.
Real Racing 2 is one of the best racing games bringing jaw dropping graphics and realistic physics. The game is available for $4.99. Finally, there is Tiger Woods PGA Tour 12 allowing you to create a custom golfer with a neat system allowing you to better gauge your shot.
These are some of the most anticipated games and getting them exclusively on Lumia would be something that might push gamers into buying a Nokia device. And N.O.V.A. 3 for Windows Phone is just around the corner. Exciting times, aren't they?
source:
WPCentral