Mango update started today for the HTC HD7 tweets T-Mobile
29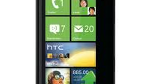 T-Mobile joined the Mango-age after tweeting
that HTC HD7 users should receive today
the highly anticipated Windows Phone 7.5 update. With the Mango update, the handset will be able to engage in multitasking while reducing the demand on the battery. The update also integrates Twitter and Facebook with the OS and adds Bing Video.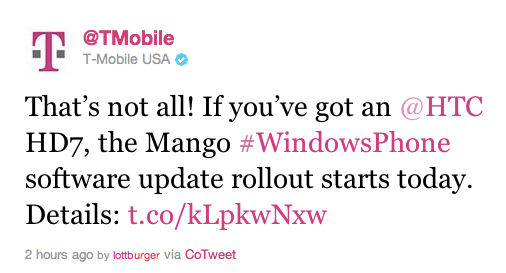 This tweet from T-Mobile confirms the Mango update for the HTC HD7
Microsoft says that it will roll out the update gradually
to make sure that everything goes as smooth as silk. Because the rollout is being done on a staggered basis, don't freak out if you haven't yet received it as these types of updates can take weeks to complete. You can check to see if your unit has received the Mango update by swiping to the left from your start screen and tapping on settings. Tap on "about" and then "more info" and you will see what version of Windows Phone you are using under the "OS version" heading.
After receiving a notification that you have received the update, you
can install it by using a USB cable to connect to a computer
. Zune will pop up on the screen. If you do not have Zune installed, you will be prompted to do so. After Zune is installed, it will look for updates and if it finds it, you will be asked to click the "Update Now" button. When everything is done, click on "Finish".
Once you have the Mango update loaded on your HTC HD7, let us in on the new features and your opinion of the software by dropping us a comment in the box below!
source:
TmoNews