Liveblog: Motorola Moto X and Moto G 2015 announcement
12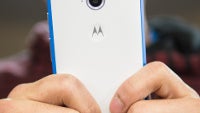 Between its purchase by Google and its consequential acquisition by Lenovo, Motorola has somehow managed to keep releasing smartphone models to the market on a regular basis, further establishing its three, well-differentiated tiers: Moto X for the high end, Moto G for the mid end, and Moto E for the low end.
While Motorola has already introduced this year's
Moto E
, it is yet to reveal the newest iterations of the arguably more interesting products: the Moto X and Moto G. That's exactly what we expect to happen today (in fact, the Moto G already got announced in India), but sources are also reporting about the existence of a third smartphone that should also debut today, the details about which are pretty much non-existent at the moment.
Welcome to our liveblog which will follow the Moto X/G 2015 announcement event and bring the news directly to your monitors!
EVENT START TIME: 6 AM PT | 7 AM MT | 8 AM CT | 9 AM ET | 1 PM GMT | 3 PM CET