Motorola Moto E (2015) Review
10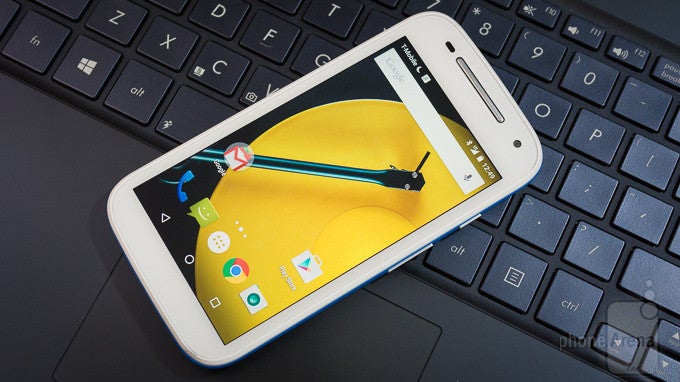 Introduction
One area seeing considerable growth over the last couple of years is the entry-level segment of the smartphone market, which is garnering more and more precedence amongst companies. Last year, Motorola brought on a one-two punch with its
Moto G
, which was subsequently one-upped in the price department by the even cheaper
Moto E
. Well folks, the process is exactly the same thing this time around, as the 2nd generation
Moto E
dishes up an even more drool worthy starting price tag of $120 – a marginal decrease over its predecessor's sticker price of $130. We've seen several value centric smartphones of late, so we're intrigued to see how this one handles.
The package contains:
Motorola Moto E
Wall charger
Product information
Design
It's the same premise as before, simple and humble.
Simple and humble, that's the premise behind the design of the 2nd generation Moto E. For the most part, they didn't stray far from the design language this series is known for. What's different, though, is that the new Moto E features a slightly more closed design – in the way that the rear cover isn't removable like last year's model, but rather, it's only the plastic bezel that can be removed. Yes, it's still constructed out of plastic. And yes, it's incredibly compact and decent feeling with its construction, so the entire package comes off pleasantly nice. In fact, this is arguably the perfect size in an era where with 5-inchers are considered the norm.
Available in either white or black paint jobs, there's a touch of personalization in the form of the various Motorola Bands and Grip Shells available to the phone. These Motorola Bands are offered in a palette of paint jobs, and do decently to accent the otherwise uniform colored smartphone. Even though there's a water resistant coating with the construction, the various translucent colored Motorola Grip Shells add another layer of protection by giving the phone some extra grip and ruggedness.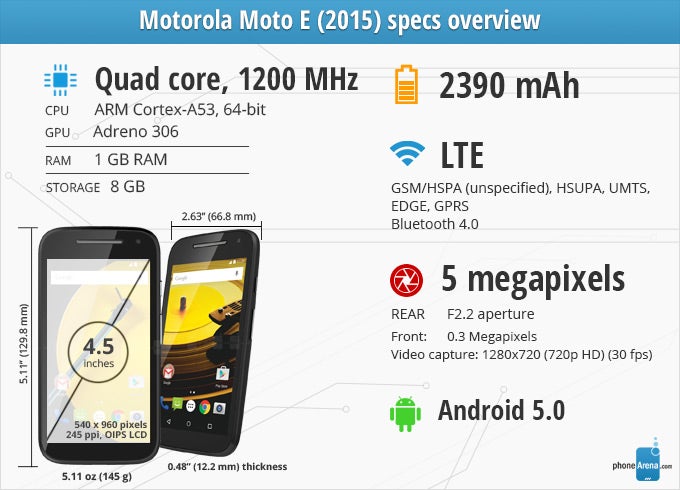 Display
Generally speaking, the display bears improved qualities over its predecessor.
Being a smidgen longer and wider than its predecessor, Motorola is able to up the display on the new Moto E to a 4.5-inch qHD 540 x 960 IPS display. Technically, the new model dishes up a lower pixel density count of 245 ppi, due to the larger display and unchanged resolution, but it's nevertheless still detailed enough to make out small details from a normal distance.
Right from the onset, even before running any of our benchmark test, the display undeniably exhibits a warmer tone – one that's made further evident by its color temperature of 6323K, so there's a distinctively yellowish tone to the screen. Despite that, its color reproduction, for the most part, is fairly accurate. Even better, though, the display radiates slightly stronger than its predecessor at 407 nits – a step up from the former's tally of 389 nits. However, most of its punchiness is best viewed straight on, as distortion becomes visible at wider viewing angles.
Display measurements and quality
Recommended Stories