Motorola Moto G (2015) Review
84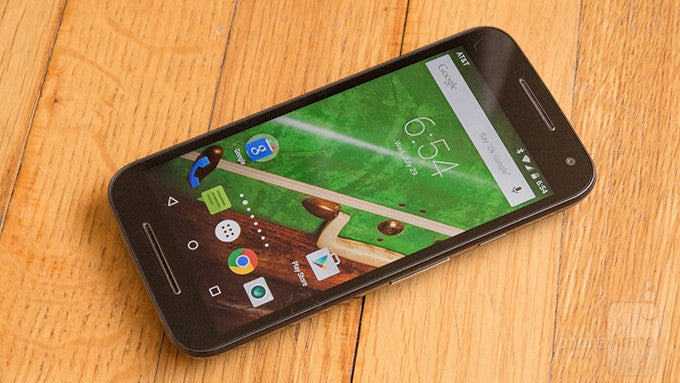 Update

: You can now read our Moto G4 and Moto G4 Plus review!

Introduction
This has been the summer of summers for strong mid-range propositions, evident by the amount of sub-$300 priced devices we've seen come to market. Smartphones like the
Asus Zenfone 2
,
Huawei P8 Lite
,
Microsoft Lumia 640
, and
Alcatel Onetouch Idol 3
have shown us that there's a ton of value in this particular segment – and it doesn't look like this trend is going away any time soon! That's wonderful news for consumers, as well as for the companies making those phones.
Before all of this, though, we have to remember that Motorola established this segment first with the introduction of the original
Moto G
a couple years ago. We can't forget about how they popularized the segment, but its latest offering is aiming to continue the legacy of delivering exceptional value and performance. Even with thick competition already in the midst, the third-generation
Moto G
stands firmly in its ground with its hard-to-beat full price of $179.99. So can it deliver the goods?
The package contains:
Motorola Moto G (2015)
Wall charger
Read me guide
Safe, smart, protected information
Design
A water-resistant construction and deeper customization thanks to Moto Maker, this is undoubtedly the best designed Moto G to date in the series!
In standard fashion, the 2015 Moto G stays true to the series' humble styling. It's not premium, that's for sure, nor is it cheap-cheap like some other phones in the same price category – so it finds a balance that we find pleasant, and in a way, timeless. Instead, the new Moto G flaunts a few subtle aesthetic changes, such as a slightly larger overall footprint and a new metallic-like trim bezel. Moreover, its rear plastic casing now has a rigid pattern to it. And finally, it wouldn't be a Moto G without the soft dimple in its back.
What's most astounding about the new Moto G is that it now offers IPX7 certification, which ensures that it's water-resistant to survive submersion under 1 meter of water for up to 30 minutes. Now that's flat out news to our ears, as it's a delicious treat we don't see in devices in its class! And of course, we put it to the test by rinsing it over the faucet, playing music in the shower, and submerging it in a bucket full of water. It survived all of the testing!
The fun doesn't end there either, just because the new Moto G is treated to Moto Maker – presenting prospective buyers with a unique way of personalizing the phone. From choosing the front and rear casing colors, to even the accent color of the plate around the camera lens compartment, there's more discretion for it to stand out with bold colors. All told, this is the best model in the series to date! It might appear simple and quaint superficially, but the addition of a water-resistant construction and deeper customization courtesy of Moto Maker makes its pricing fine and dandy in our books!
Although it might seem like it's flaunting dual front-firing speakers, it's actually not. Rather, the cutout above the display is strictly used for its earpiece – while the bottom is the speaker itself. Considering it's still relatively easy to handle with one hand due to its size, both the power button and volume controls are found near one another on the right edge of the phone. Rounding things out, it also features a microUSB 2.0 port, 3.5mm headphone jack, and noise cancellation mic around its trim.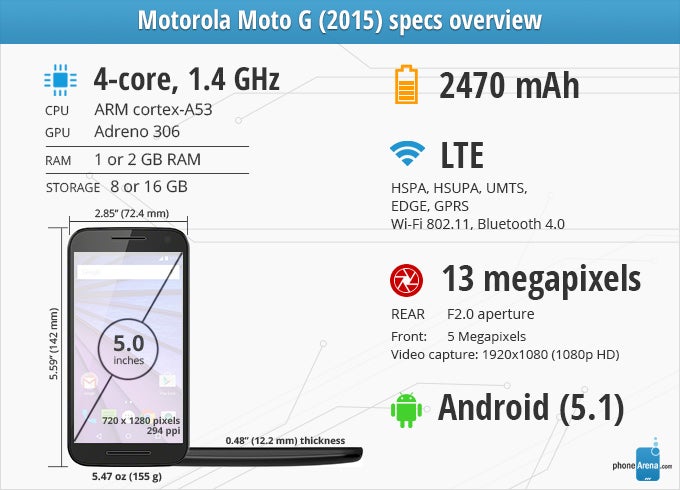 Display
The specs might be unchanged, but there are small improvements all around with the display.
From a specs standpoint, there's nothing terribly new here with the 2015 Moto G screen – it's a 5-inch 720 x 1280 HD display with Corning's Gorilla Glass 3 protecting it. From the looks of it, the display appears to be of the IPS-LCD variety, just like before with the previous Moto G phones. Boasting the same sized display and resolution, there's no change whatsoever with the details. Therefore, it's sharp and effective enough when using it from a normal distance.
While it certainly would seem there's not a lot different to the display this time around, it flaunts some minor improvements that technically makes it a superior panel over its predecessors. First and foremost, it produces a more potent luminance of 449 nits, which makes it fairly reasonable to see under bright lighting conditions. On top of that, baby step improvements are made to its color temperature and gamma value, which chime in at 7440K and 2.27 respectively (vs 7625K and 2.56 for the Moto G 2014). While the screen's color temperature is an improvement over last year, it's still by and large a colder toned panel – so colors tend to have a hint of blue in them (most noticeable with white).
Speaking of color production, there's honestly no major changes here. It does a decent job with accurately reproducing all gradients in the sRGB color chart spectrum. Distortion is evident at some angles, which causes colors to appear washed out at times. It's not terrible, but still noticeable to the eye.
The benchmark results are one part of the overall picture, but at the end of the day, while it might not have the crazy specs to make it super compelling, but for a budget phone, its display is agreeable.
Display measurements and quality
Recommended Stories