Live: Nokia is announcing new Windows Phone 8 devices
41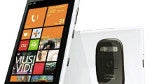 Today is a great day for Nokia, Microsoft and Windows Phone! Probably as big, or even bigger than Nokia's last year unveiling of their first Windows handsets, today's announcement of their first Windows Phone 8 devices will have a tremendous effect on the future of the company.
Due to
some recent leaks
, we expect Nokia to announce at least two phones, the
Lumia 920
and
Lumia 820
. There isn't too much that is currently known about the handsets, although we can be pretty sure that at least one of the models will have the PureView camera technology, although with not so many pixels as in the
Nokia 808 PureView
.
Specs-wise, we don't expect wonders, but it's also true that Windows Phone doesn't need an impressive specs sheet in order to impress you with buttery-smooth performance. Overall, we're quite excited about the upcoming devices by Nokia, because the company has proven that it's capable of building beautiful smartphones that can easily stand out from the crowd of black bars that the market seems to be flooded with.
Stay tuned for our liveblog of the event, which will begin at 10AM ET | 9AM CT | 7AM PT | 4PM Central European Time!
Please refresh the page if the Liveblog has not appeared below the text!