Nokia Lumia 820, 920 leak out: PureView coming to Windows Phone
99+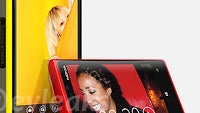 The new Nokia Lumias have leaked out and they bring great news for Windows Phone fans -
Nokia is bringing its PureView imaging technology to Windows Phone 8
with a monster 4.5-inch
Nokia Lumia 920
, designed in Nokia's best N9/Lumia 800 traditions and with great new colors, at least if this here leak proves true.
Along with it comes a lesser specced and non-PureView 4.3-inch
Nokia Lumia 820
with equally colorful jazzy looks and probably a more affordable price.
Both the Nokia Lumia 920 and the Lumia 820 seem to focus on the camera with Carl Zeiss lenses on both gadgets.
We don't know the actual resolution of the allegedy
Lumia 920 PureView camera
, but so far we've heard speculation that a PureView Windows Phone Lumia could sport a 21-megapixel sensor. This would allow the PureView oversampling technology to combine four pixels into one super pixel when you shoot at 5 megapixels, which in turn would mean less noise and better performance in low light conditions, as well as some non-degrading zoom capability (not just plain digital zoom). Still, in all likelihood this won't be exactly like the monster 41-megapixel sensor on the Nokia 808 PureView Symbian device, but somewhat less capable. On the bright side of things - you don't have to deal with a huge bulge on the back of the device, and the upcoming Lumia 920 definitely looks very, very sleek, much better than the bulky 808 PureView.
We love the
colors
on both the Lumia 920 and 820. That amazing yellow and vivid, almost crimson red right in the middle seem to set the new trend for Nokia Windows Phones.
As good and veritable as it sounds, this is still a leak so the final handsets Nokia unveils on September 5th might differ from what we see here. Still, to us it seems that there is all likelihood that those images are legit. If so, there will be a lot to get hyped up about in less than a week.
How do you like what you see? Could that be your future phone right here?
source: evleaks
(1)
,
(2)
via
PocketNow
Recommended Stories