LG patents its own fullscreen notch-free display with the selfie camera underneath
5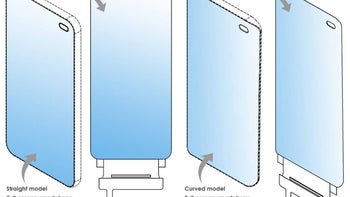 It seems that Samsung is not the only South Korean smartphone maker to be actively exploring ways of doing away with the notch - as a fresh new patent application reveals, LG is seemingly doing the same.
Dutch website
LetsGoDigital
and Samsungfirst uncovered the patent which reveals LG's fullscreen display developments. Similar to Samsung's solution, LG has also resorted to a screen cutout in order to accommodate the essential selfie camera. From the looks of it, LG is toying with the idea of placing the cutout to the left, in the middle, or at the right side of the display.
Judging from the oval cutout, LG might want be planning to throw in not one but two selfie cameras in there, which coincides with another piece of info shared by leakster @IceUniverse.
Of course, this being a patent application, it will be too absurd to begin with the speculations that the LG G7 might sport such a design. While it's not impossible, it doesn't seem as if we are there just yet.
While it can be argued that screen cutouts are just a less obtrusive notch, it's definitely a stepping stone to the coveted full-screen display endgame. While such a design is already feasible as demonstrated by a couple of Chinese vendors, the issue lies with the essential hardware elements that still need to be put at the front of the phone - the camera, the proximity sensor, as well as the earpiece to some extent. From the looks of it, 2019 could be the year when the big boys on the mobile game will showcase their vision for the fullscreen future that we are headed for.