LG G4 contract pricing details for Canada revealed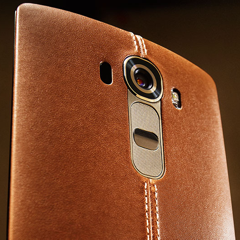 The
LG G4
constitutes a solid flagship smartphone entry from the South Korean company. With the customary spec. upgrade, a few design tweaks and a slick leather finish for those with a taste for premium aesthetics, it's a viable alternative to the Apple iPhone 6, Samsung Galaxy S6, and all of the other industry darlings. Canadian fans looking to get their hands on the device will be paying $699.99 ($569) for the handset unsubsidised when it arrives on June 19th through Bell, Rogers, Telus, Videotron and Wind Mobile. Now, it has emerged that on a two-year contract, prospective G4 owners can expect to part with $199.99 ($163) up front; at least, they will if they opt for Rogers.
The ~$200 price-point for a new flagship tethered to a 24-month contract tends to be the norm nowadays. With Rogers having set the tone, it's likely that Bell and Telus will retail the G4 at a similar-to-identical price point, where Videotron and Wind's structures will probably differ.
The G4 includes a 5.5-inch IPS LCD display with a resolution of 1440 x 2560, but it's the processor choice that may work most strongly in LG's favor as it looks to meet
sales targets
. Instead of opting for the Qualcomm Snapdragon 810 chip, the G4 is kitted out with the comparable Snapdragon 808. Given the overheating issues that have plagued the launches of the
HTC One M9
and
Sony Xperia Z3+ / Z4
, to name but a few devices running the 810, the fact that the LG G4 bundles the 808 must be seen as a plus point.
In
our review of the LG G4
, we found it to be a notable upgrade from the G3, with the camera being a stand-out when utilized to its full potential through the manual modes. It's not as radical an overall jump as the iPhone 6 / 6 Plus is from the 5s, nor the Samsung Galaxy S6 duo from the S5. But it does everything well -- some things exceptionally so -- and unlike many of its peers, includes a removable battery.