HTC One M9 powered by the 64-bit Snapdragon 810, produces overheating warning on AnTuTu
99+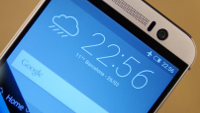 Remember last year when everyone panicked for a few days
when there was talk about the Snapdragon 810 chipset overheating?
Many still believe that this was the reason for
Samsung's decision to pack its new flagship model with the home grown Exynos 7420 SoC
. Last month, these overheating issues
were rumored to have been permanently overcome
. Meanwhile, HTC,
Xiaomi and LG have continued to use the Snapdragon 810
as the SoC that powers some of their premium models.
On Sunday,
HTC introduced its latest flagship phone
, the
HTC One M9
. Neither HTC, Xiaomi, nor LG had any complaints about the Snapdragon 810 with LG going as far as saying it was one of the least overheating chips it had ever worked with. LG's vice president of mobile, Woo Ram-chan, couldn't believe the reports about the overheating, especially after noting that the Snapdragon 810 powered
LG G Flex 2
is one of the coolest running smartphones now available.
What brings all of this up again is a trip that the HTC One M9 took to the AnTuTu benchmark site. On the floor of MWC in Barcelona, someone from a Romanian website decided to see how HTC's new flagship would score. Since the
HTC One (M8)
constantly scored in the 42,000-43,000 range, it was expected that the sequel would do well. Instead of a score, a message popped up that said "
The device temperature is too high. Please test again after cooling the device. Continue testing may cause the system to restart or shut down
."
This sounds like it could have just been a random incident, especially since we haven't heard about any widespread problems from LG G Flex 2 buyers. Still, it does rekindle the fears that the chip has a tendency to run hot.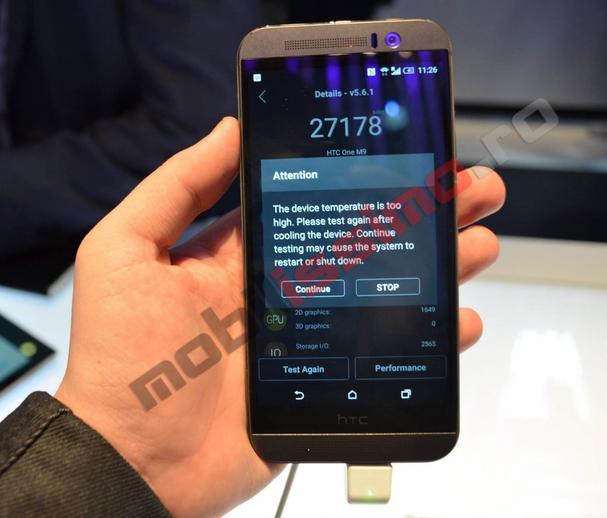 HTC One M9 packing the Snapdragon 810, is overheating according to AnTuTu
Thanks for the tip!
source:
Mobilissimo.ro
via
AndroidHeadlines
Recommended Stories