LG G3 vs S5 vs Z2 vs One (M8) size comparison: screen-to-body for the win
14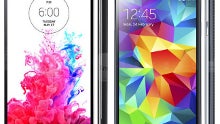 LG was somewhat of a flagship trailblazer last year, with the excellent almost 76% screen-to-body-size ratio of the
G2
. Before that, it was the
Sony Xperia ZL
which offered 75.84% ratio for its 5" display diagonal, and since then we've had excellent entrants in this competition, mainly from the phablet world, with the
OneTouch Hero
, or the
G Pro 2
.
None of those can reach the
amazing 80%+ levels of Sharp's recent EDGEST portfolio
, but as far as 5.5-inchers go, the new
LG G3
is again very, very compact. So compact, in fact, that its size can measure up to all other major flagships that were outed this season, all of which have smaller displays. LG touts a 76.4% screen-to-body ratio with the G3, but it measures the screen as if it were with an exactly 5.5" diagonal, whereas it's more of a 5.46" panel, hence it would warrant a slightly lower number than what LG touts.
Nevertheless, looking at our size comparison chart below, we can see that in terms of height the LG G3 ranks almost on par with the 5" One (M8), while the 5.2" Xperia Z2 is even taller. When it comes to width, however, the G3 is the widest of them all, and this is especially visible when you compare it to the narrow, elongated body of the aluminum One (M8). Despite that it will be the hardest to hold and operate with one hand of the bunch, the G3 also has the largest screen real estate of them all, and, considering that these are all big-screen phones that preclude one-handed operation by design, LG has definitely done a good job with how compact the G3 is for the display diagonal. Moreover, it weighs almost as much as the S5, and a bit more than the G2, while both the Z2 and the One (M8), are much heftier handsets. What do you think, has LG done a good job with the overall size of the G3?