The world's most and least compact tablets relative to their screen size
27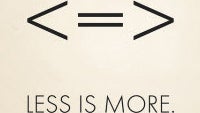 For the past two weeks now, we've working diligently in order to provide you with a more sublime aspect of your mobile device's relative compactness: screen to body size ratio. In an age of ever-growing smartphone displays, it makes perfect sense that consumers spend more and more attention to the level of efficiency of the design between devices with equal or very similar screen sizes. So, then, for example,
we had Japanese Sharp's Aquos Xx 302Sh phone climb on top
with the amazing 80.66% of its body consisting of nothing more than the display, while Apple's iPhone 5s last, with its display making up just 60.82% of its entire body.
We then did the same for phablets
.
Today, however, it's about time we took a look at tablets.
Now, despite using the same method of working out the screen to size ratio, we've gotta note that we genuinely feel that tablets, as a form factor all of its own, should be rightfully exempt from the same kind of scrutiny that flagship smartphones and phablets go through. That's because, at their core, tablets were never intended to be pocket-friendly devices, not to mention that you likely want at least some amount of bezel in order to ensure a secure grip, and without interacting with the touchscreen at the same time. However, even with that in mind, it's probably safe to say that a very big portion of tablets currently on the market still have a long way to go until they start flirting with the aforementioned line that separate practicality and good looks. Take a look.
Check our other rankings for:
Note #1: Due to the large volume of available tablets, we've picked only Android/iOS/Windows RT-based models that were released after the second half of 2013 (with some notable exceptions).
Note #2: Results are approximations, given how an advertised 5-inch screen can sometimes actually measure in at 4.95 or 5.04 inches, for example.