LG G3 unboxing videos show the differences between the T-Mobile and Korean versions
37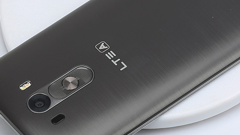 Officially announced
two days ago, the
LG G3
is currently available to buy only in South Korea, with
a global launch
to follow starting June. Even so, unboxing videos already started to show up, so we thought that you might be interested to see them.
We spotted two LG G3 unboxing videos, one of them officially coming from T-Mobile, and another one showing the handset's Korean version (for SK Telecom). As you'll see in the videos, the Korean model has two removable batteries and a pair of headphones, while
the T-Mobile variant
has only one battery, and (apparently) no headphones at all. That's why the retail box of the Korean G3 is bigger than the one of the smartphone for T-Mobile.
Interestingly, although the retail boxes have a gold color, both smartphones found inside are of the metallic black variety - so perhaps all retail boxes are golden, regardless of the handset's color.
You can find the two unboxing videos in the slideshow below. And you should definitely also see
our LG G3 hands-on
(which includes lots of photos, as well as two videos).
sources:
T-Mobile
(YouTube),
Under kg