LG G3 hands-on: the QHD behemoth is here
36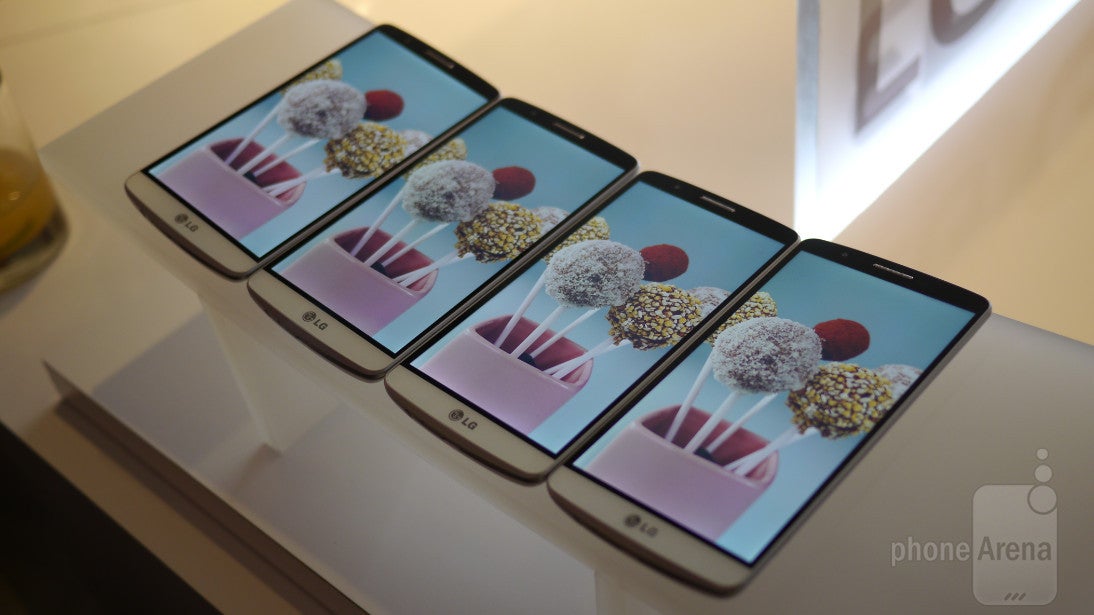 Being first is one thing, but being last is another. With almost the first half of 2014 winding down, we've seen our fair share of flagship smartphones. From the early ground shakers that came out with guns blazing, to the more recent ones that decided to wait it out, we've pretty much seen the same amount of consistency from the group. Everyone, and we mean everyone, simply improved the specs and designs of their smartphones, but in the greater scheme of things, nothing really stood out being regarded as truly next-generation.
Sony, Samsung, and HTC all delivered in their own unique, fashionable way, but for LG, who has been sitting behind the bushes waiting to see what its competition brought to market, they've managed to conjure up something truly epic. As we've said, first to something or anything is a good feeling to have, however, being last in this particular case is especially delicious. Without any more hesitation, the mighty
LG G3
became official-official today – bringing forth some extraordinary next-generation hardware that's utterly innovative and class leading.
Design
LG's designs haven't been the most flattering, in comparison to the stuff we tend to see come out from Sony and HTC's camps. In fact, the closest they've been to reaching that premium level was with the Google Nexus 4, where its rear glass casing sprinkled that smidgen of premium onto the phone. Aside from that, their designs have mostly been nothing too edgy. Nevertheless, they've tinkered with the design of the LG G3 enough to warrant some adulation towards their way – thanks in part to its more pronounced elegant looks.
And why is that? Well, the phone sports a more hard lined design that makes the Samsung Galaxy S5 look quaint and boring. On top of that, its combines a metallic rear finish with a matte plastic layer to not only splash on a subtle premium look to the smartphone, but to also help maintain a cleaner finish – one that's resilient to smudging or fingerprints. For what it is, we prefer it over the glossier feel of the LG G2, which of course, was a magnet to anything nasty.
Amazingly, for a smartphone bearing a 5.5-inch screen, the phone feels extremely form-fitting to the hand. That's attributed to the minimal amount of bezel surrounding the display, which gives the phone an impressive 76.4% screen-to-body ratio. In terms of overall size, it almost matches the confines we get with the Samsung Galaxy S5 – a pretty astounding thing taking into consideration that the LG G3 has a larger screen. Throw in the slight arch of the casing, it makes for a pretty comfortable feel in the hand, supplemented by its pretty lightweight feel.
Even though we wish it were more pronounced, the same rear button configuration exists here with the LG G3. Meaning, the power and volume buttons are placed in the back of the phone – keeping the sides of the phone uncluttered for the most part. The texture of the buttons is slightly different, but the power button itself feels harder to distinguish with our finger due to its recessed feel.
Beauty is absolutely in tow with this one, but unlike some of its esteemed rivals, it doesn't have a water-resistant construction – nor does it pack additional amenities like a finger print sensor or heart rate sensor. Regardless of that, when it comes to purely looks, our eyes are pleased by the outcome of the phone's edgier design.
Display
Ushering in 2014, we were all hoping to see even higher resolution screens in our smartphones. Reality, however, came smacking us in the face, showing us that 1080p resolution screens were going to be the norm for a bit longer. Being last to market has its perks, which is evident here with the LG G3 and its class-leading 5.5-inch 1440 x 2560 (QHD, not to be mistaken by qHD) IPS LCD display. Doing the math, it delivers an unbelievable pixel density figure of 538 ppi. Indeed, the number certainly crushes the competition, but is it really noticeable?
Quite frankly, it's only noticeable when we're looking at a web site in a zoomed out view in the browser. Specifically, the faintest of text has enough clarity and sharpness to make our eyes distinguish its superiority. However, when we're looking at the screen from a normal distance, we'd be hard pressed to even notice it. Of course, we'll give LG props for moving the segment forward, which will be the expected outcome going forward with future high-end devices, but when it comes to practicality, it's tough to say that it proves to be greatly beneficial over 1080p panels.
Beyond resolution, all the elements in making a display lovable are present here with the LG G3. In our brief time, its brightness output seemed pretty potent – plus, its color reproduction seems to exhibit a neutral tone.
Interface
Besides the display, the other major aspect of the phone that astounds us is LG's updated customized Android experience running on top of Android 4.4.2 KitKat. Gone are the cartoony looks of LG's past effort, replaced instead by a more modern one sporting a cleaner finish – while also toning down some of the software features we saw previously. In all fairness, we have to applaud LG for delivering a visually pleasing interface that rivals the stuff we've seen from HTC and Sony. Everything has been redesigned to match the allure and prestige that now accompanies the phone, so the icons, text, and app layouts have been modified to match it.
Inviting, that's arguably the best word to describe LG's new customized Android experience. Heck, even the color choices of the widgets, icons, and even app layouts have been toned down to give it a fresh look. The more we look at it closely, the more we find it rivaling some of the more astounding Android interfaces out there – like HTC Sense 6.0. In comparison to its main rival, the Samsung Galaxy S5's latest TouchWiz experience, LG's offering is simply more arousing.
Processor and memory
Taking into account the higher resolution screen, we all believed that it would take a newer, more powerful processor to handle the rigorous task of keeping its performance at high capacity. Interestingly enough, the LG G3 relies on the same chipset from Qualcomm that's powering today's existing line of flagship smartphones. To be more exact, the LG G3 is outfitted with a quad-core 2.5GHz Qualcomm Snapdragon 801 SoC coupled with 2GB of RAM and the Adreno 330 GPU. Yes, it's the processor we're all familiar with, but luckily, it continues to prove itself worthy enough to handle the LG G3 – more so with its number crunching screen resolution. In our short time checking out the phone, everything we did was accompanied with that level of snappiness we're so used to finding. And on top of that, we're certain that it's equipped to handle even the strenuous task of playing 3D games.
Stuffed with a healthy 32GB of internal storage, it's more than ample to meet the needs of most people. If you're scared that 4K video recording is going to eat up at that space quickly, there's a microSD card slot behind the rear casing that's ready to supplement things. With last year's crop of flagships, including the LG G2, microSD card slots seemed to be a premium, so needless to say, we're thankful that it's become standard once again amongst the elites.
Camera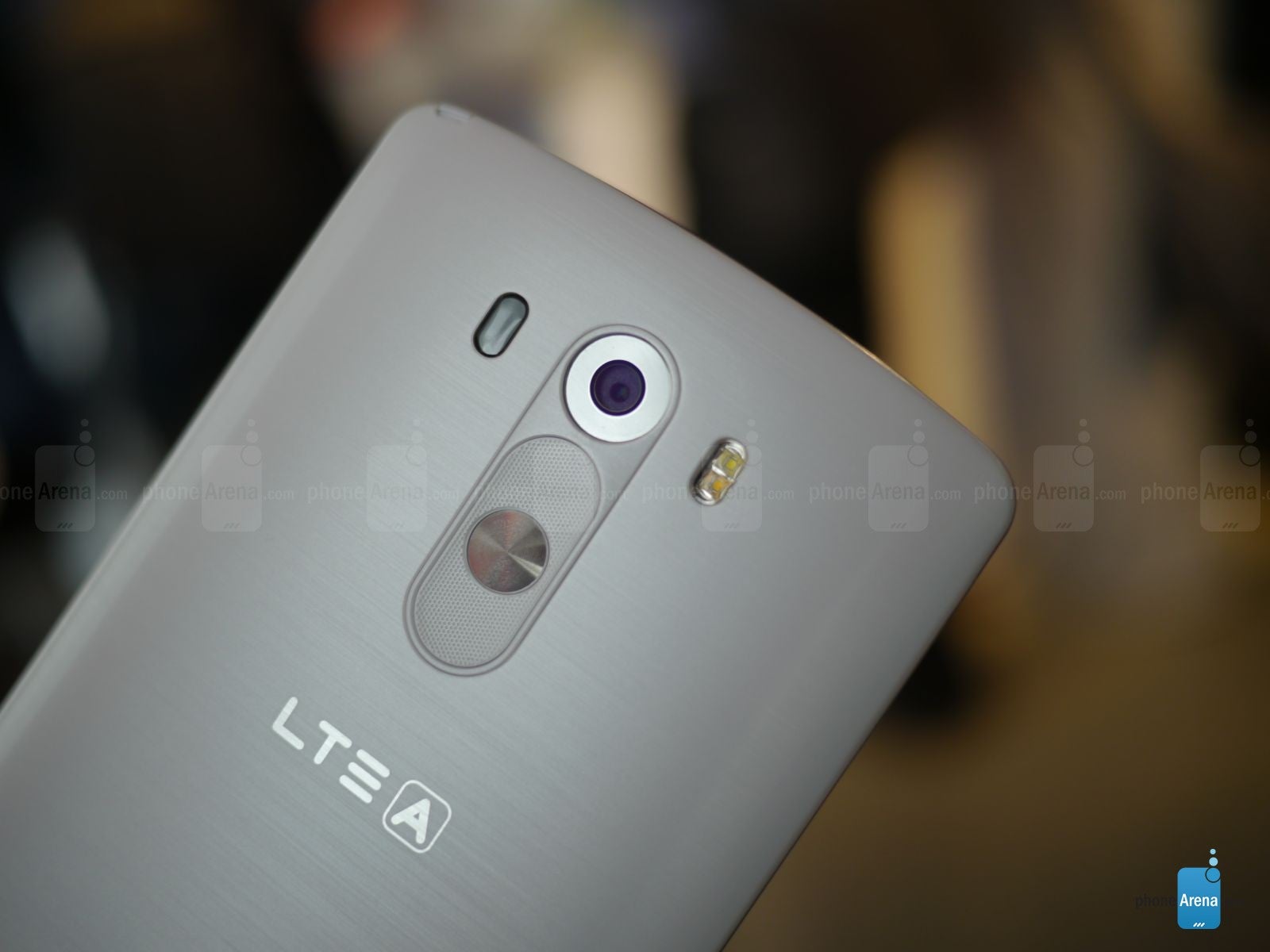 Looking into the camera on the LG G3, it doesn't try to one-up its predecessor by cramming in more megapixels, but rather, LG focused its attention on making its performance even snappier – while still delivering some meaningful shooting modes. Armed with a 13-megapixel rear camera, which features a laser beam-guided auto-focus system, dual-LED flash, optical image stabilization, backside illuminated sensor, and 4K video recording, there are tangible improvements to justify it as being a handy point & shoot.
Seriously though, it's tough to tell how much faster its focus is than some of its rivals. Heck, we know that the Samsung Galaxy S5 and HTC One M8 are speed demons when it comes to focusing, but as LG stated, its new laser bean-guided auto-focus delivers even faster speeds! It's fast, really fast, so that's all we can say about it for now until we get some quality time with it. However, we were intrigued to see a demo of how the camera itself was able to maintain focus with adverse changes to the scenery. For example, the demo showed us that the LG G3 focus was better equipped in adjusting its focus on the fly – as different subjects in the shot went in and out of the frame.
Additionally, we were shown some of the LG G3's different video recording mores – like its cool 120 FPS capture. As the handset was being used to record video, its optical image stabilization kicked in to keep the video steady and shake-free, while also producing that nifty slow-motion like effect thanks to the buttery capture.
Multimedia
With this year's model, the speaker has been moved to the rear of the phone – whereas with the LG G2, it was position along the bottom edge. Who knows how this development will play out, as audio is being projected away from us as we're holding the phone, so we'll refrain from making a final judgment for now.
Just like before, there's an IR blaster that transforms the phone into a universal remote – a nifty and useful thing to have in the event the TV remote suddenly goes missing. Naturally, its QHD IPS LCD display is a stunning thing to behold when looking at photos or watching videos. Although, when it comes to the latter, the hardest part is finding enough QHD content to make good use out of the phone's screen.
Briefing looking at the music player, it mimics the interface's cleaner looks, but we didn't spend enough time to gauge its functionality.
Expectations
LG absolutely has something drool worthy in its possession at the moment. The LG G3 does everything right to make it a validated successor, but it does a whole lot more to put it ahead of the curve in many departments. First and foremost, its QHD screen is a feast in itself – one that's unchallenged in the space. Being the last to make an announcement, this is something we are impressed to find, giving it that true next-generation attachment.
If we're to look at all the existing flagship smartphones out in the space right now, they are all obviously marginal improvements over their successors. Beefier specs, new features, and updated experiences are all in abundance with them, but the LG G3 is arguably the sole one to make considerable changes in every category. In fact, the updated Android experience it's flaunting is almost alien in comparison to what we saw running in the LG G2 last year – whereas its rivals, they all tweaked their experiences ever so slightly.
Still, for all of its proud achievements, we need to point out some things it lacks. Unfortunately, it's not a water-resistant phone, so some might take that omission to heart more deeply after looking at what the competition is offering. There's no finger print sensor, nor does it feature a newer microUSB 3.0 port – two items that have come into prominence of late. Ultimately, the question that remains is whether or not the wait was worth it. Pricing for the phone hasn't been made public, but we're seriously hoping to find it near or around the $200 on-contract mark – to make it a competitive offering. Anything more than that, it might prove to be a tough sell for consumers who have a wide array of choices to choose from.