The LG G3 is now official: say hello to the world's sharpest phone display
26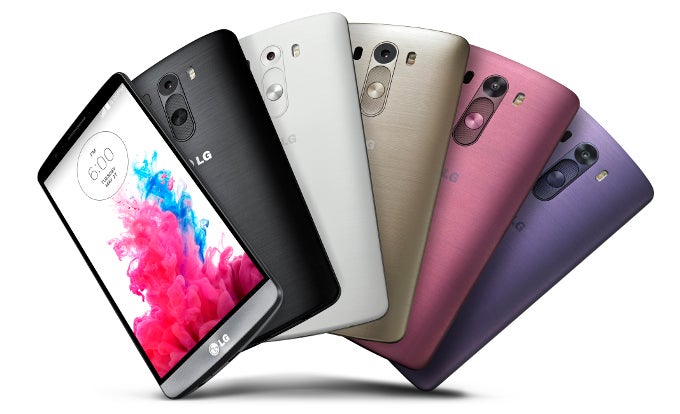 "Simple is the new smart" - that's the message that resonates throughout the entirety of LG's marketing machine, at least as far as the brand new (and finally official)
G3
flagship is concerned. We won't pretend to quite grasp what LG's angle is here, but we'll very much go through its impressive new flagship point by point.
Arriving last on the scene, LG has had time to study and learn from its Android rivals, whose flagships are already on the market. Only time, however, will tell if that's an advantageous position to be in. Either way, the G3 is posited to launch quite the challenge in the flagship space, as it seemingly has the entire package.
Design: a step forward
Design-wise, the minty-fresh G3 is every bit the worthy flagship we were expecting it to be, and it's definitely making good use of the very solid foundation laid by its critically-acclaimed predecessor, the
G2
. In fact, one of
the most sought-after
aspect of the G2 -- its industry-leading, compact physical footprint -- has a seat on the G3 juggernaut of a train, which comes with the impressive 76.4% screen-to-body ratio. Indeed, despite its intriguing, but large, 5.5-inch screen, LG has managed to fit the G3's glass into a super-compact body that measures in at 146.3 x 74.6 x 8.9mm (5.76 x 2.94 x 0.35 inches), and weighs 149 grams (0.35 oz). That's an impressive (and important) feat that may help LG sway and win over the hordes of people that shudder at the thought of the phablet form factor.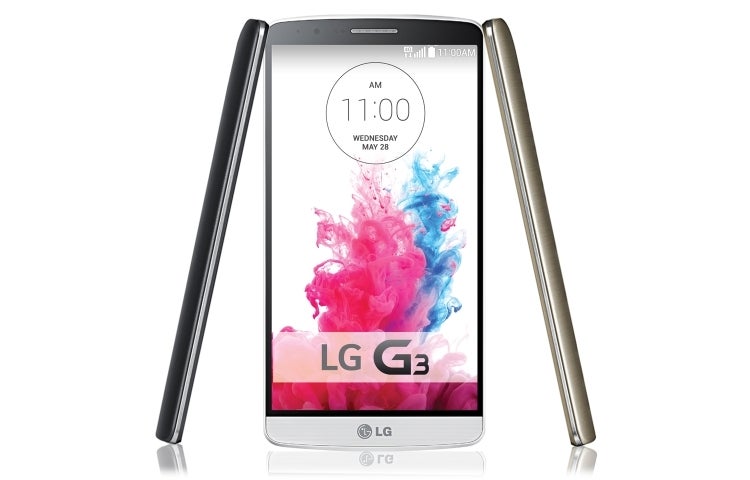 Speaking of form, the G3 has seen a small evolutionary step forward with its metallic-looking, matte plastic design. The bottom side of the phone has now taken the shape of a more aggressively-rounded arc, and one could argue that the G3's façade is even easier on the eyes when compared with its predecessor. At the back, we have another set of changes, with the G-line's now signature rear buttons sporting a new, less-pronounced look and tactile-friendly mesh texture finish. The rear also makes room for two other openings, but more on those later.
The LG G3 will come in five color options: Metallic Black, Silk White, Shine Gold, Moon Violet, and Burgundy Red.
Display, processor, battery, and the need for these to be viewed together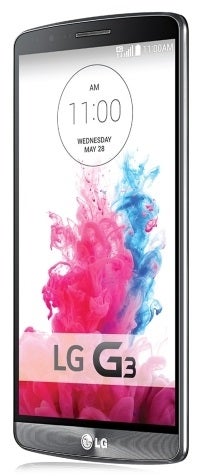 Without a doubt, the 5.5-inch, 1440 x 2560 (QHD) pixel resolution display on the LG G3 is its most standout feature. The LG-made IPS panel in question is truly astounding with its picture clarity, thanks to those 538 pixels per every inch. What's more, the company claims the unit is 100% true to the sRGB color space, meaning that, in theory, it can reproduce every color packaged into the standard. That said, this doesn't necessarily mean a perfectly color-accurate image in practise, and this sure isn't the first time we hear such a claim.
Obviously, the topic of QHD displays on smartphones has been widely-discussed already, and quite a few people have voiced their concern. Indeed, in most use case scenarios, you won't really be able to make much of a difference, as your eyes will be unable to discern as fine a detail. Furthermore, the panel will require a lot of horse power out of the 2.5GHz, quad-core Snapdragon 801 (MSM8974-AC) chip, especially when playing games, though synthetic benchmarks don't paint a concerning picture.
But pushing the processor also means higher power draw, which is an uncomfortable thought, especially now that we're finally entering the promised land of battery efficiency. However, according to LG at least, the removable, 3000 mAh cell of the G3 has gotten rid of some of the metal inside, and has seen to it that it's replaced graphite instead. This, along with alleged further optimizations, will apparently let it keep the lights on past midday. Let's hope so.
Improved camera with laser beam-guided auto focus
Star Wars geek or not, there's no denying the cool factor inherent to lasers. And the G3's camera unit has that, believe it or not. Indeed, the 13-megapixel shooter (1/3.06'' sensor) makes use of a laser beam-guided auto focus that will help it measure the distance between an object and itself, thus outputting properly-focused shots in a a more consistent manner. Even in low light scenarios. As far as we're aware, this is an industry first, so we're unsure of how exactly it will play out.
Oh, and for those wondering, the G3 uses the OIS+ image stabilization tech that debuted with the
G Pro 2
, and largely improved on the original OIS gizmo in the G2.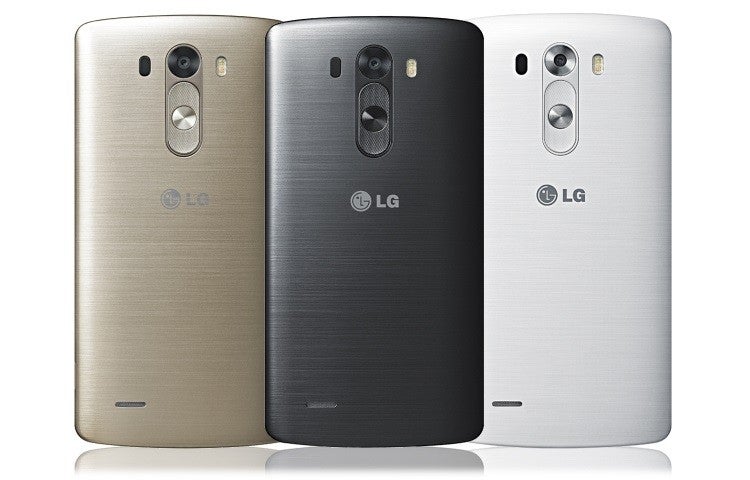 There are other changes and improvements too. For example, the camera software will now instantly snap a photo as soon as you tap to focus. What's more, the 2.1-megapixel front-facing selfie cam has seen improvements in image sensor and aperture size (f/2.0), though LG didn't go into too many specifics. In terms of video, the unit supports 4K resolution capture Lastly, LG claims the software will use the G3's microphones to analyze the environment and pick an optimal audio level when shooting video in order to provide clearer sound with clips.
A redesigned, flatter UI with new features
The current LG Optimus interface is not beloved by everyone, and for a good reason: it can be truly cluttered with options both gimmicky and useful, not to mention that its cartoonish looks are not everybody's cup of tea. This latter fact feels especially pronounced now that most manufacturers have transitioned to flatter interface designs. The good news here is that LG, as rumored, has taken cue, and the G3 will be shipping with a redesigned version of the interface, with -- surprise, surprise -- flatter, cleaner looks, and a less imposing heap of quick options and the like.
The new, Android KitKat 4.4.2-based software also brings a few new features to the table, most interesting of which is Smart Notice. Initially identified as LG Concierge during the G3 rumor phase, Smart Notice is something of a context-aware personal assistant with natural language capabilities. In simpler terms, the feature will remind you of things like missed calls and that you'll probably want to return them, or suggest you grab an umbrella, as you're in for a rainy day.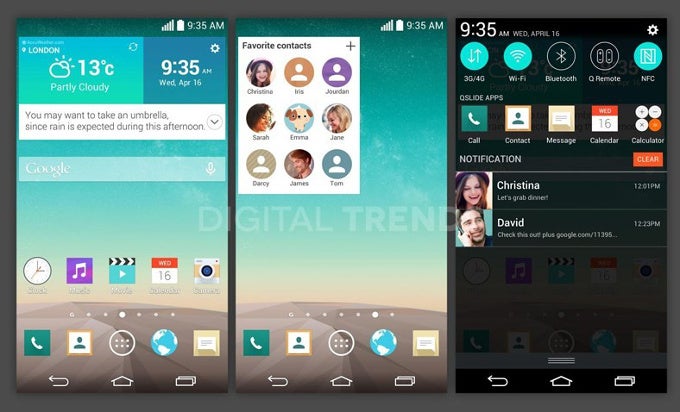 LG also took the chance to advertise its improved keyboard, which it now calls Smart Keyboard. Unsurprisingly, Smart Keyboard learns from your typing habits like many third-party solutions do, which then allows it to offer relevant next-word suggestions. Lastly, LG's security layer, now dubbed Smart Security, will include features like the
G Pro 2
's Knock Code (lets you unlock the device when you correctly reproduce a pre-set pattern of taps anywhere on the screen), Content Lock (hides files you deem important from prying eyes), and Kill Switch. As its name suggests, the Kill Switch is a last resort, anti-theft mechanism that will see your G3 completely disabled, and its contents wiped remotely.
Price and release date
LG is keeping mum on pricing, and it hasn't been very descriptive when it comes to a proper release time frame, either. That said, we're told to expect two versions of the LG G3 to embark on a global marathon starting May 28th in South Korea, and eventually grace the waves of some 170 carriers worldwide -- one with 16GB of storage and 2GB of RAM, and another with 32GB of storage and 3GB of RAM (this one could be for the South Korean market only).
Of course, information in demand often manages to find its way to the public, and third-parties have already shed some light on the above essentials in LG's stead. For starters, the four major US carriers -- AT&T, Verizon, T-Mobile, and Sprint -- have already confirmed that they will be carrying the G3. What's more, we can confirm that one European country -- Bulgaria -- will see the G3 made available to consumers as early as June 26th, meaning that we should see the new flagship start flying off the shelves in certain regions around the globe in the coming month. Lastly, the first clues as to the price tag we can expect to see dangling off the G3's side have also been provided by UK's Clove Technology e-tailer, which has the handset for grabs at £499, including VAT.