King launches Bubble Witch 3 Saga for Android and iOS
3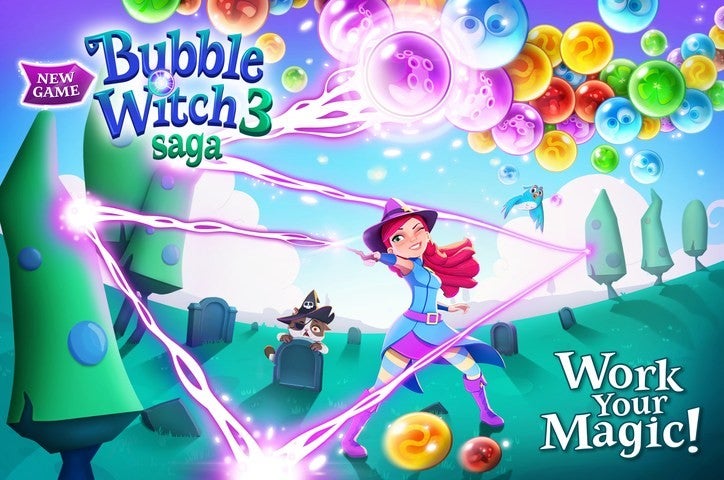 King, makers of
Candy Crush Saga
, has just announced the third title in the Bubble Witch Saga is now available on both the Android and iOS platforms. The game can be downloaded for free from the App Store, Google Play, Amazon Appstore, as well as Facebook for those who like to play on the PC.
Bubble Witch 3 Saga
features the same game formula as the predecessors, so expect to enjoy a bubble-filled wonderland where you'll have to overcome bubble-shooting challenges.
According to developers, the third installment in the saga comes with new game elements such as Stella's House, where players can help rebuild a home by filling their star bar and collecting Star Durst, which is turn allows them to customize and upgrade her house.
The game also features new bubbles and boosters, as well as an enhanced "aiming line" game mechanic that enables greater precision when shooting. Multiple special game modes are available too, including Wilbur mode, Collection mode, Ghost mode and Collect the Owls mode.
In Wilbur mode, players must defeat Wilbur's magic shield, a unique "boss level" where players have to shoot bubbles to release trapped fairies who can help wearing down the shield's energy.
Bubble Witch 3 Saga
players much clear all the bubbles they can from the board to complete the level in Collection mode.
Also, they must shoot as many bubbles as possible, clearing a path that allows them the ghost to get to the top of the board so he be reunited with his friends in Ghost mode.
Lastly, in Collect the Owls mode, players must free the owls trapped in bubbles throughout the game board, as quickly as possible.
Bubble Witch 3 Saga comes with 220 levels initially, but more will be added in the future through monthly updates.