Farm Heroes Saga for Android & iOS is a Candy Crush spin-off with mixed fruits
2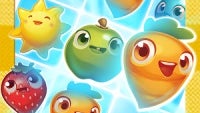 King.com, the maker of
the wildly successful Candy Crush Saga
, has released a spin-off game, called Farm Heroes Saga. If the original game has already cured your sweet tooth, then this one should provide plenty of the same fun, but with more vitamins due to its new set of characters - the "adorable cropsies". Players will team up with the Farm Heroes against the nemesis, Rancid the Raccoon.
Farm Heroes Saga offers "acres of luscious levels" and features collectable "marvellous magic beans, as well as rechargeable boosters, extra moves and other power-ups. It also lets you compete with your friends for the highest score.
The game is free-to-play, although some extras, such as extra moves or lives, require payment. Overall, Farm Heroes Saga is the quintessential mobile puzzler - harmless, addictive, and monetized to the brim. Although we aren't so sure about the "harmless" part – after all, this is a game about fruits with human faces and emotions who eat "magic beans" and battle an angry raccoon named Rancid. Which seems rather psychotic.
Download:
Android
|
iOS
source:
Pocket Gamer