KakaoTalk messenger now boasts 100 million registered users
2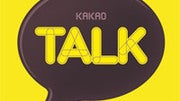 Ever heard of KakaoTalk? It is one of those cross-platform messaging apps that let you chit chat with your buddies over the internet instead of using SMS. You know, kind of like WhatsApp, Viber, Facebook Messenger and the likes. And even though it has been around for about 3 years or so, the platform has already amassed a user database exceeding the 100 million mark.
In case you've never tried KakaoTalk, it is available on iOS, Android, BlackBerry OS, and Windows Phone. The app allows free phone calls and group chats to be made over the internet, and supports themes as well. KakaoTalk even has its own
Android launcher called KakaoHome
, which works like
Facebook Home (which nobody seems to like)
, but it is made for KakaoTalk users, of course.