BBM what? WhatsApp has over 250M monthly users
22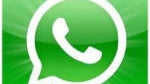 The WhatsApp CEO Jan Koum really loves to talk about how big the platform is getting. It happens so often that it makes us wonder whether or not Koum is really just trying to impress potential buyers. The other reason to parade the numbers so often is to reinforce the growth trend. The better the numbers, the more users trust the product, and the more people join. It's a virtuous circle.
Koum has come out and said that WhatsApp now boasts over 250 million active monthly users, which is up from the
200 million
that was implied for the platform just two months ago. At the time, Koum had said that WhatsApp had more users than Twitter, and Twitter had said that its active user base was around 200 million.
At the time, Koum also said that WhatsApp was processing 18 billion messages per day, and that number peaked recently at 25 billion messages in one day. Those are all very impressive numbers, especially when you take into account WhatsApp has only been around for 4 years, although to be fair, the trend to move away from SMS has been a very recent one.