July turns out to be a very strong month for BBM
29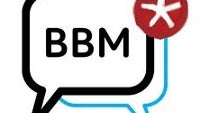 July was one of the strongest months of growth for BlackBerry's messaging app BBM. This is according to BlackBerry Senior Vice President Matthew Talbot, who wrote about it on BlackBerry's own blog. Talbot says that growth was led by the release of version 2.9,
which includes Material Design for Android users
. He also noted that since it was the summer, many were off from school or on vacation and decided to open a BBM account. And part of the growth was due to word of mouth as many BBM users spoke to others about their satisfaction with the app.
When
BlackBerry first announced that stickers would be available for BBM
, some thought it was a joke and wondered if anyone would use them. But it appears that BlackBerry knew what it was doing. Each and every day, 30 million stickers are sent through the messaging app. And the BBM Store now lists 450 different free and paid stickers. BlackBerry has also used the stickers as a way to drive traffic to advertisers' websites.
Talbot also noted that BBM had a strong month for ads. Some of the major corporations that spent money to run ads on the messaging app include names like the
New York Times
,
TD Bank
,
Mint
,
Samsung
and more. Video ads are now bringing in more revenue to BlackBerry as companies like
King.com
,
OLX
and
Studio M Hotel
use video to sell their products on BBM.
Recently,
BBM announced a deal with PayPal
that will allow users to send or receive money in the middle of a chat. This feature is currently being tested. In Indonesia, BBM also
offers consumers a mobile payment service
that lets consumers make payments using their phones. One other financial service in the country
allows BBM users to wire money just like Western Union
. Because most Indonesians don't have a credit card, bank transfers are the most popular method of making a purchase online in the country.
BlackBerry is obviously on the right path with BBM. Most Wall Street analysts overlook the value of this diamond in the rough. With over $3 billion in cash, BlackBerry is not going hungry. But if the company does ever need to raise cash, it can always spin off or sell BBM.
source:
BlackBerry
via
Crackberry