Jha: Android flavored Motorola tablet possible early next year
3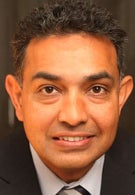 Speaking yesterday at the Deutsche Bank Technology Conference in San Francisco, Motorola co-CEO Sanjay Jha expressed hope that his company will be launching an Android flavored tablet early in 2011. The executive gave credit to Google's open source OS for its role in making Motorola a relevant company in the cell phone business once again. At the same time, Jha noted that the current build of the Android OS is not perfectly suited for use in tablets.
A
recently leaked
Verizon roadmap hinted at a 10 inch screen on a Motorola tablet that would be powered by Android 3.0, aka "Gingerbread". The Schaumburg based firm could be joining Acer and HTC on the runway, all three waiting for Gingerbread to be ready so they can offer an Android 3.0 powered tablet. We
reported
on Motorola's special relationship with Google. With both companies working closely together, Motorola became the first to market an Android 2.0 device with the Motorola DROID, and there could be a repeat in the tablet market with 3.0.
Jha sees tablets as distinct and separate from smartphones. He said, "I see the tablet market as an opportunity; no cannibalization with smartphones. iPad is more an extension of iPhone than a migration of a Macintosh. I think that is a natural expansion for us."
source:
electronista