Jelly Bean almost catches Gingerbread in newest Android platform numbers
16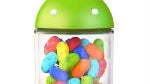 Another month down means another set of Android platform numbers to help guide developers in decisions about what features to offer, and what level of the Android API to use when developing for the platform. And this month has shown more growth for Jelly Bean, which looks like it should overtake Gingerbread by next month as the dominant version.
Jelly Bean was the big winner this past month (likely due to the availability of the Samsung Galaxy S4 which launched with Android 4.2.2).
As of May 1st
, Jelly Bean held 28.4% of the Android ecosystem, with Gingerbread holding the lead at 38.4%, but as of today, Jelly Bean has made a big push while Gingerbread and Ice Cream Sandwich both saw decreases.
In the new numbers, Jelly Bean is up almost 5% to start June with 33%. Gingerbread is still the dominant version at 36.5%, but it doesn't look like that will last much longer. Ice Cream Sandwich also lost about .5%, and none of the other versions really matter at all.