December Android platform numbers have KitKat at 1.1%, Jelly Bean at 54.5%
55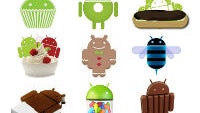 It is the first Monday of the month, and we all know what that means: the new Android platform version numbers are out. As always, these numbers are designed to help developers know what level of the Android SDK to target with app releases. The numbers keep showing that Android 4.x is where to be led by strong numbers for Jelly Bean.
Jelly Bean first became the most popular Android version back in July, and now it is up to 54.5% total compared to 52.1%
last month
. Android 4.1.x is still the majority holder with 37.4%, but the big change this month is with Android 4.3, which is up from 2.3% last month to 4.2% now. Android 4.4 KitKat made its debut on the list with 1.1% of the ecosystem.
The rollout of Android 4.4 has already begun/happened for the various Nexus devices as well as the Moto X, and the numbers cover a 7-day period ending today, so at least some of those updated devices should have been counted in the new data.