Android 4.x FTW: Jelly Bean finally the king of the Android ecosystem
15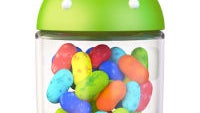 The new monthly Android platform distribution numbers have come out, and it's another big win for our theory that
developers might want to drop Android 2.x support all together
, because it was another big win for the Android 4.x set, specifically Android 4.1/4.2 Jelly Bean. As expected, Jelly Bean has surpassed Gingerbread (Android 2.3.x) to become the king of the Android ecosystem.
As of last month, Jelly Bean had 33% of the ecosystem compared to Gingerbread's 36.5%, but the roles have reversed with the new July numbers. Jelly Bean has gained almost another 5% of the market and leads all versions of Android at 37.9%, while Gingerbread has dropped to 34.1%. Ice Cream Sandwich is still number 3 on the list, but it has lost share and is down to 23.3%.
The numbers are designed to show developers what users are accessing the Play Store, which are the users that developers would want to target with apps. Android 2.x continues to lose ground to Android 4.x, and that trend won't be reversing any time soon, so we have to ask again: should developers abandon Android 2.x and build for 4.x?