March Android platform numbers have Jelly Bean up and Gingerbread down
10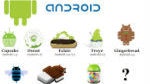 The Android platform numbers for March are out; and, as expected, Android 4.1 Jelly Bean has continued to gain steam, while the reigning kind, Android 2.3 Gingerbread, continues to slide. And, overall the numbers are starting to turn towards Android 4.x, which is good considering that Android 5.0 is on the horizon.
Android 4.1 was the big winner this month, climbing from 9%
last month
to a solid 14.9% this month. Android 4.2 also saw a slight bump from 1.4% to 1.6%. This means that Jelly Bean overall has jumped from 13.6% to now 16.5% of all devices.
Android 4.0 Ice Cream Sandwich looks to have peaked at 29% last month, and is down to 28.6% now. That's not much of a peak, but it looks like manufacturers are just pushing towards Jelly Bean.
Android 2.3 Gingerbread is still the biggest proportion of the market at 44.25% (down from 45.6%); and, Android 2.2 Froyo dropped from 8.1% to 7.6%.
Presumably, these trends can only continue from here, especially with flagships from Sony, HTC, and (most importantly) Samsung either here or coming soon. We can only imagine that Jelly Bean will continue to grow from here.