Is a native Skype app coming to BlackBerry 10?
1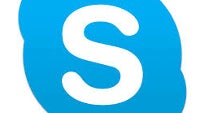 For those of you who sport a BlackBerry 10 device, we have some good news in the midst of this weekend. The Skype app in BlackBerry App World recently was the recipient of a big update that carries an improved UI and the whole thing runs smoother than before. As you probably know,
the current Skype app is a port of the Android version
. The name you will find for it in BlackBerry App World after the update is Skype (Preview), which hints that a better (and perhaps native) app is on the way.
To confirm that, Brian Zubert, Manager of Developer Relations at BlackBerry, sent out a tweet that practically says that a native Skype app is coming. Only problem is that it will apparently run only on BlackBerry 10.2. That is no problem for those with the
BlackBerry Z30
, which ships with the BlackBerry 10.2 OS installed out of the box. But for the rest of you BlackBerry 10 users, you are going to need to wait for the update to OS 10.2 to run any native version of Skype that may show up in App World.
The
global rollout of 10.2 started last week
with the update made available for those in Europe, Canada, and the Middle East, Africa and Asia Pacific region. U.S. BlackBerry 10 users will have to wait for the update, which will seemingly allow them to update a much needed native version of Skype. Having an app like this that BlackBerry owners can call their own not only means that it should work better than the Android port, but it should also make 'Berry owners feel a little more secure about owning a BlackBerry device.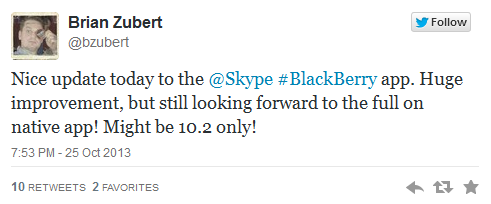 Tweet from BlackBerry's manager of developer relations hints at native Skype app for BlackBerry 10
source:
@bzubert
via
Crackberry